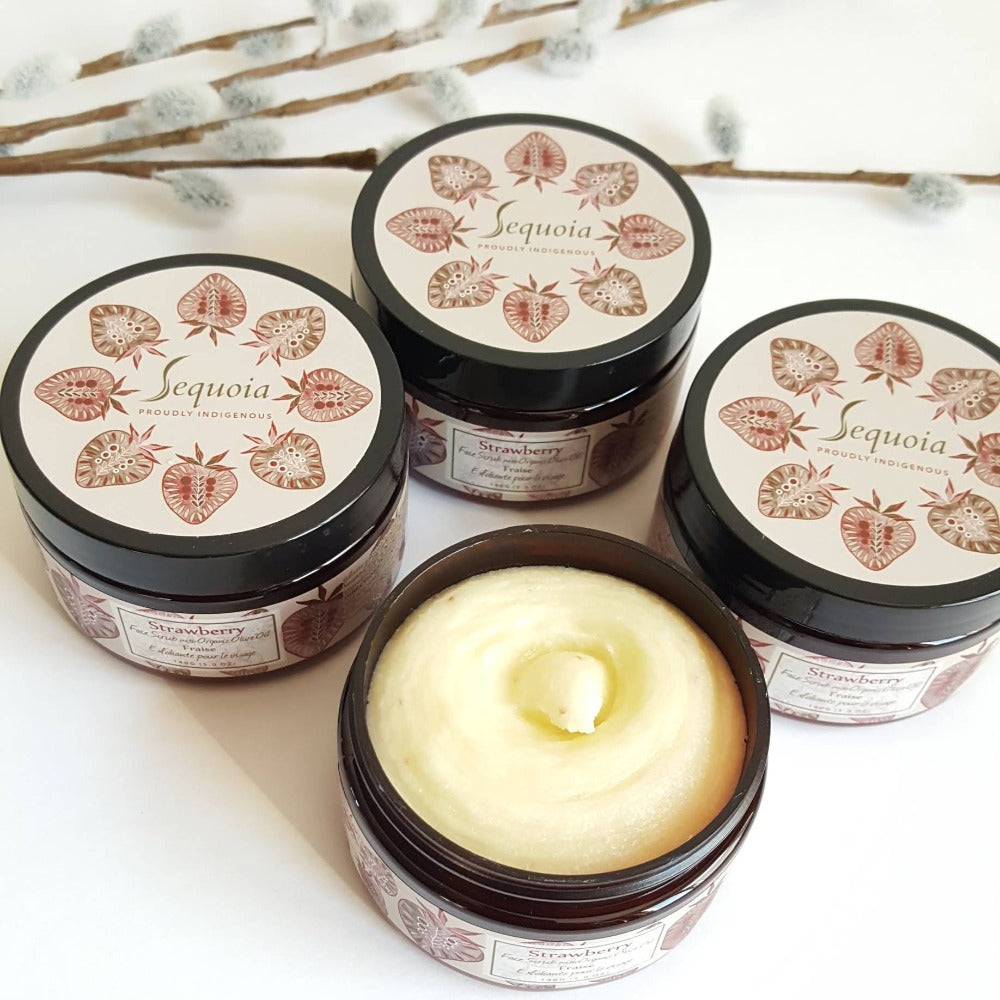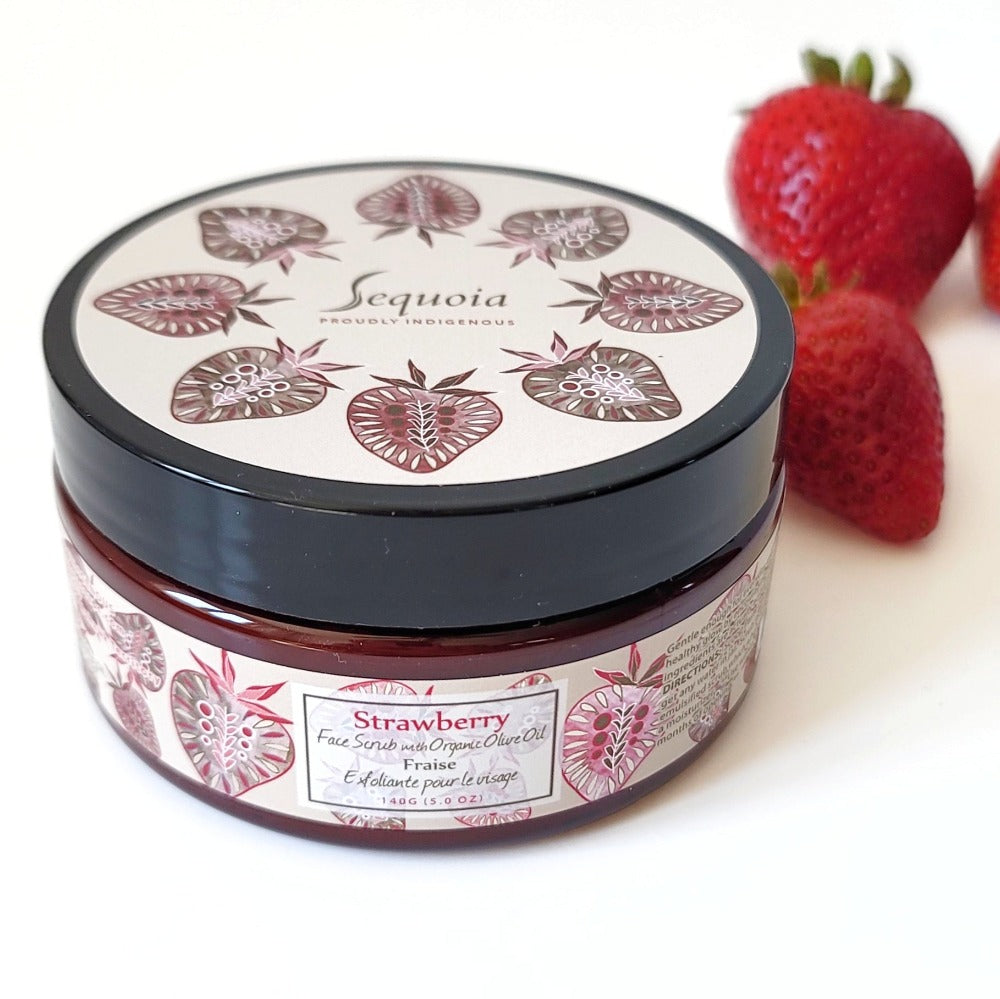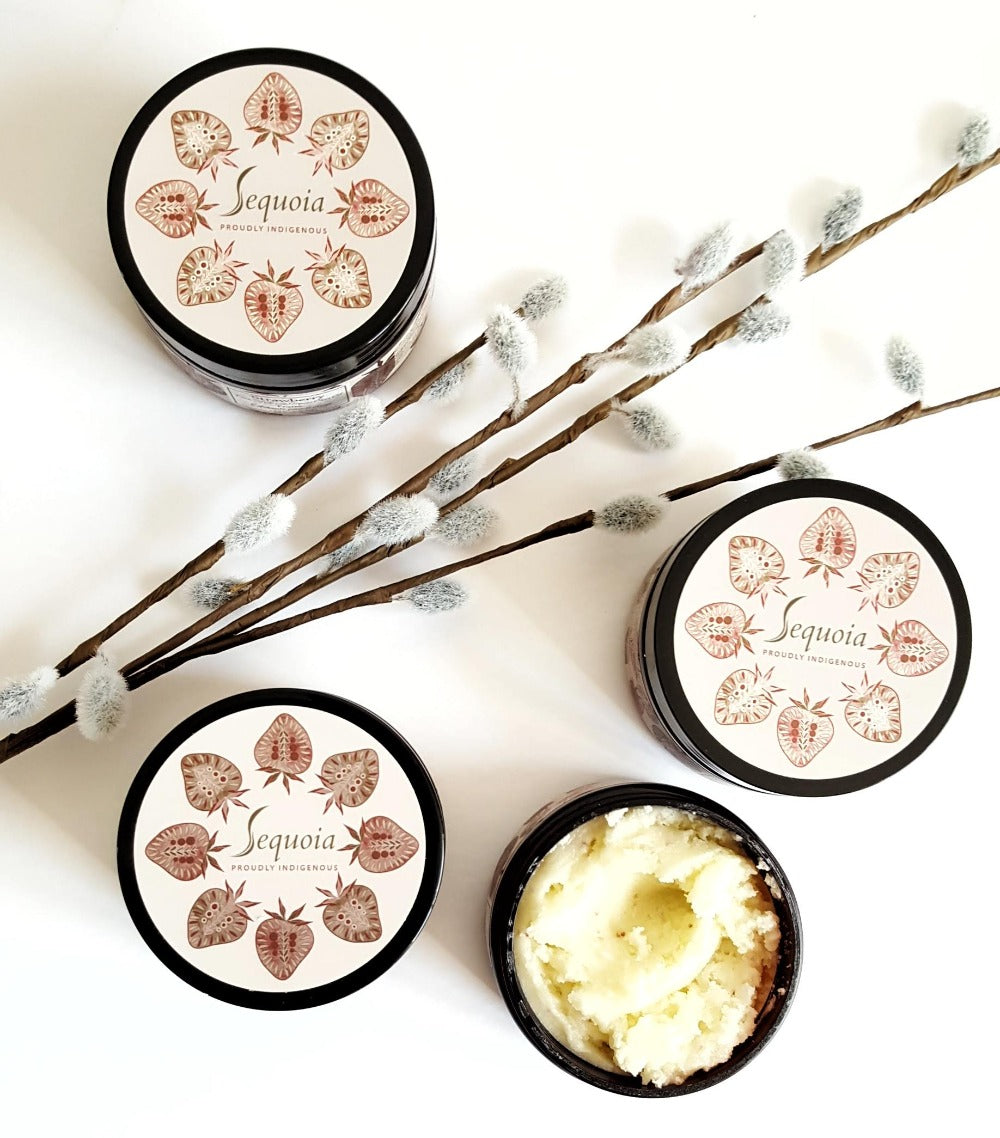 Scent Family:
Strawberry
Description: A straight up strawberry flavor
Details: Strawberries are one of those plants that serve many purposes. They provide nourishment, are sweet and tasty, the seeds are used in our strawberry face scrub.
Gentle enough for everyday use. This face scrub will give you a healthy glow be encouraging cell renewal. Sequoia's Face Scrub ingredients are actually edible and without preservatives.
• smooths and refines skin
• removes dead skin cells
• made with organic olive oil and pure cane sugar
• 100% edible ingredients
• 99% natural ingredients
Directions:  Scoop paste out of container, being careful not to get any water in jar. Scrub face gently, rinse, pat dry. this is an emulsified scrub which when combined with water turns into a moisturizer. **Use within 4 months of opening**
Size/Weight: 10 oz /5 oz
Ingredients: Sugar, Organic Olive Oil, Emulsifying Wax NF, Strawberry Seeds, Strawberry Flavor Oil
          • Natural Ingredients
          • Safe Synthetics
Wonderful!
I absolutely love this face scrub! I love that it smells like real natural stawberries! Most other strawberry scented products from other companies smell so fake. Not this one! And I've noticed that my face has been looking healthier and feeling softer since using it! I was equally impressed with the blackberry sage body mist! I might have to make them a monthly purchase!
Makes a face feel good!!!
I love this stuff! It's smells amazing and it tastes amazing because I'll actually use it in my lips too. Gives me a gentle exfoliation that I do every night because it's so gentle. My face feels so soft and it's glowing. Finish it off with a good moisturizer and I've noticed such an improvement in my skin. Don't want to use anything else to wash my face. I love love love this stuff!!!
Opulent ~ Lavish ~ Healing!
As a 41-year-old life long runner whose face has been exposed to the sun very intensely since I was 15 years old, I have to say this has helped even some of my brown sports. Additionally, it has helped my melasma which I can only see, and usually when I point it out to others they say they can't see it. Combined with some other healing skincare regimens and SPF when I am running, cycling, and hiking, I've seen improvements. It smells amazing and being Anishinaabe I love anything with strawberries!!!
Fantastic Scrub!
Such a beautiful scrub! Smells like a bowl of fresh strawberries and uses strawberry seeds with the exfoliation. I absolutely love it! Makes my face feel so soft after!