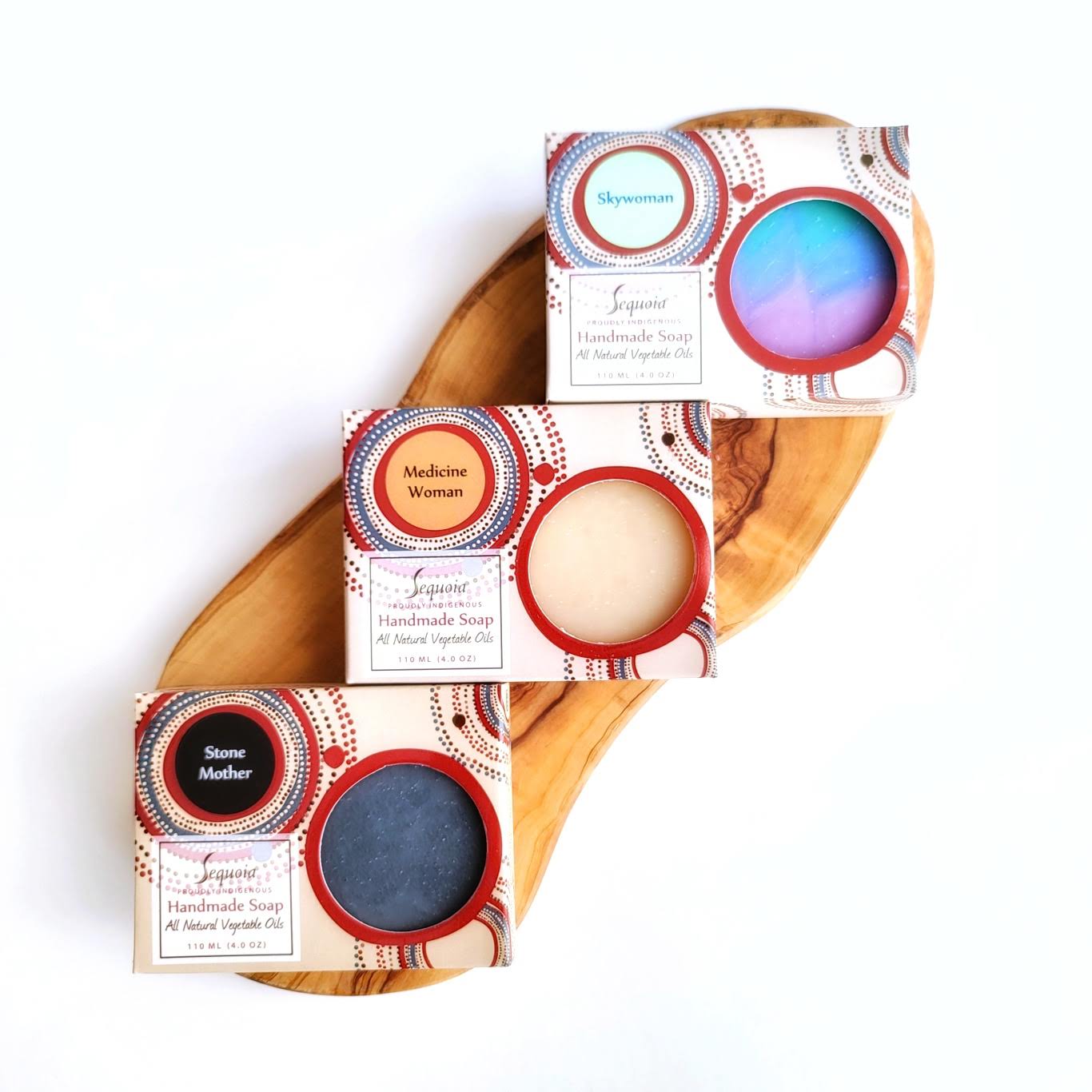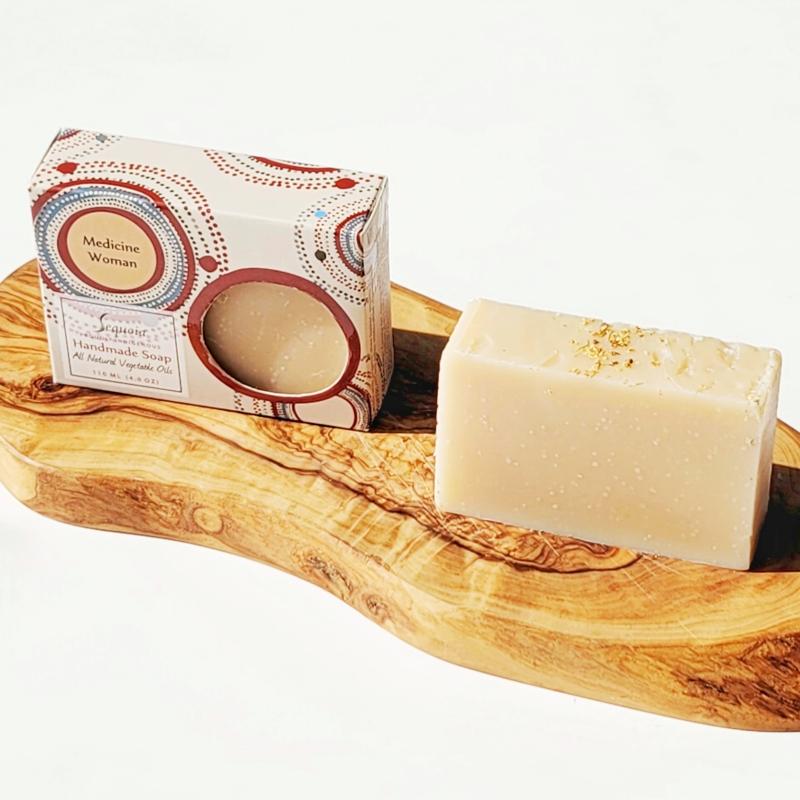 Women Inspired Soap Bundle [Skywoman, Stone Mother, Medicine Woman]
In celebration of women, we've created a bundle of our ​Sequoia soaps inspired by the most powerful Indigenous women. Here is some of the inspo that went into each one in it's creation.

This Bundle contains: 

• 1 - 4 oz Skywoman Soap ($14)
• 1 - 4 oz Stone Mother Soap ($14)
• 1 - 4 oz Medicine Woman Soap ($14)
Skywoman: Skywoman is from the Iroquoian creation story. She fell from the sky carrying medicine and gifts, and was pregnant. As she fell, the birds collaborated with the sea animals and found a way to help her fall on on a piece of mud on a turtles back. This grew into Turtle Island.

We have the three layers in this soap representing Sky, Land and Sea. Scent is Citrus/Floral

Stone Mother: The Stone Mother is rock formation at Pyramid Lake, Nevada, which is where I spend my summers with my grandmother. The legend goes that the mother sent her children out in for different directions because they couldn't get along. She cried (Pyramid Lake is a salt water lake) and was waiting with her basket for them to return. She waited so long, that she turned to stone along with her basket.
We made this soap with activated charcoal to give it more of a "stone" look to it. Scent is Peppermint/Tea Tree
Medicine Woman: The Medicine Woman recognizes that life is in constant ebb and flow, giving and receiving, beginning and ending, active and passive. She honors the natural cycles of her body, knowing there are times of action and times of rest, times of contemplation and inner work, and times of diligence and perseverance.
Medicine Woman combines several different essential oils such as Sage, Cedarwood, Eucalyptus and topped with Elder Flowers. Scent is Herbal/Medicinal 
Total value of products is $42 save $3 when purchased as a bundle 😊
nice
Looks great and smells very good.
IWD Soap Bundle
The 3 bundles I purchased are for my mother, my daughter in law and myself. Love Sequoia soaps, I've been buying and using them for many years. It's the only soap I use.
From the bundle, my favorite is Sky Woman, but they all smell wonderful.
Thank you for your fabulous products!
IWD soap bundle
Gave to my mom as a birthday present. She loved it. We love your products here.
Gentle scent, moisturizing
I am obsessed with the Sequoia soaps. I've never tried one that I didn't love the scent. So natural and light. Very moisturizing. Love.
Love Your Soaps
Really enjoy your soaps! My skin feels amazing even after this long, harsh, skin drying winter.