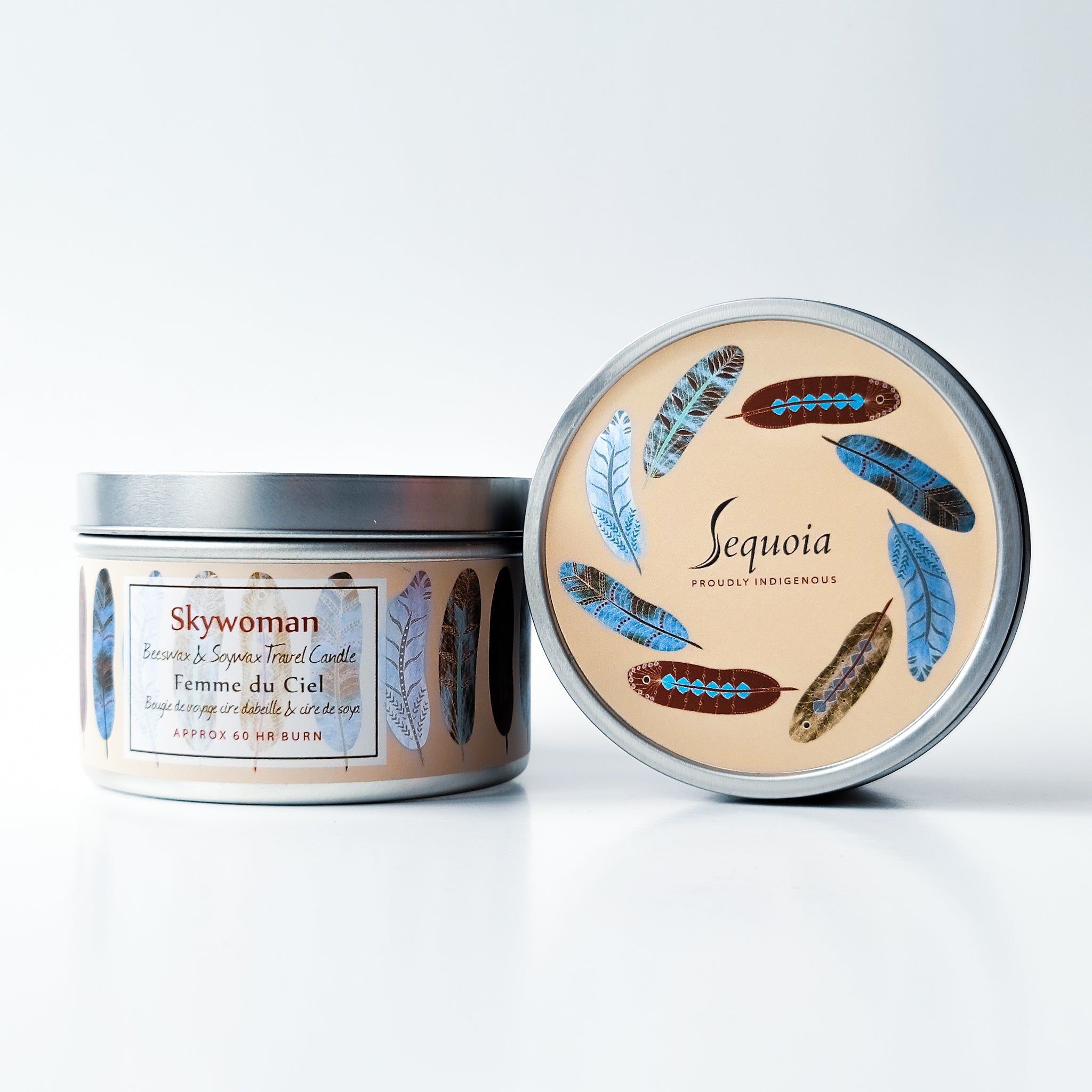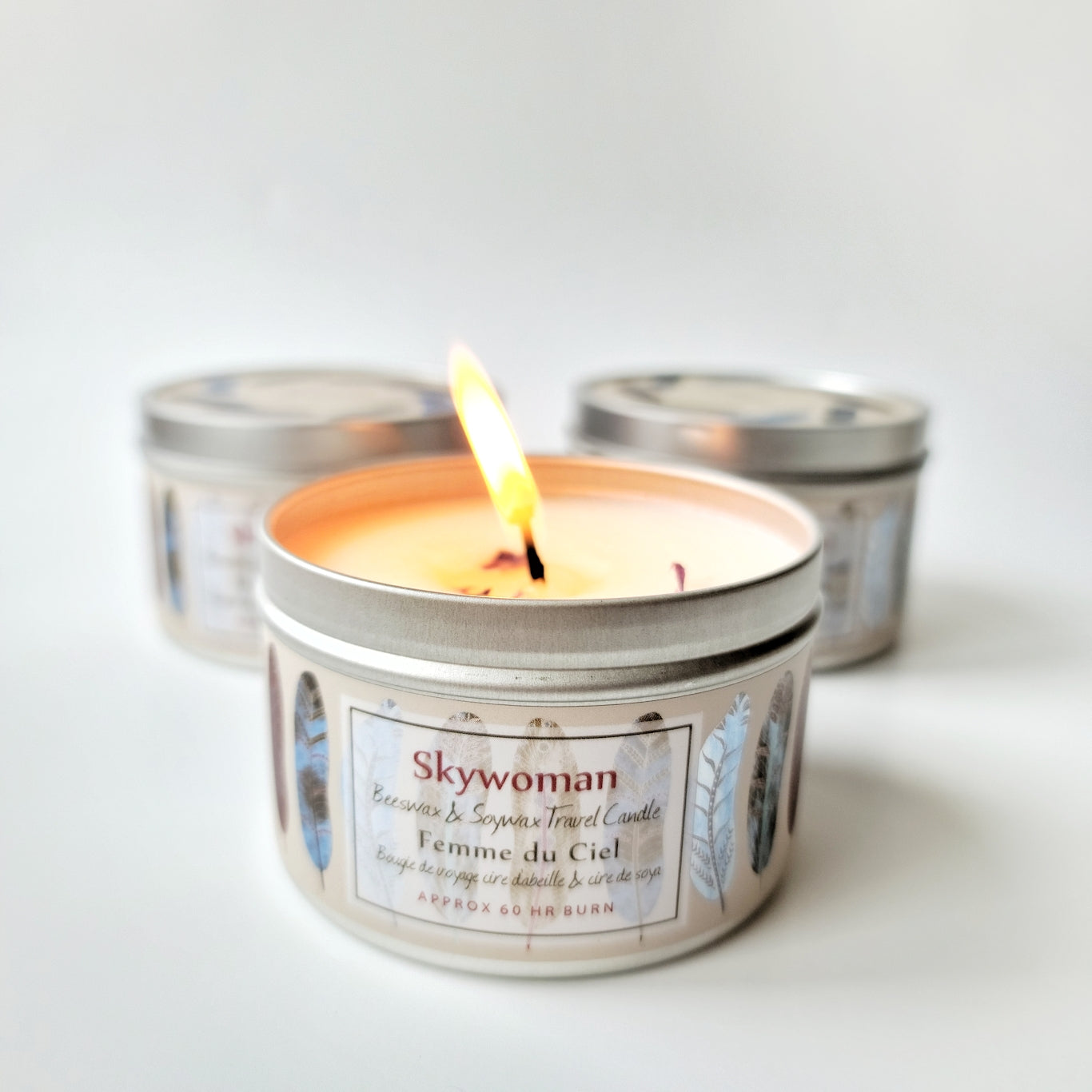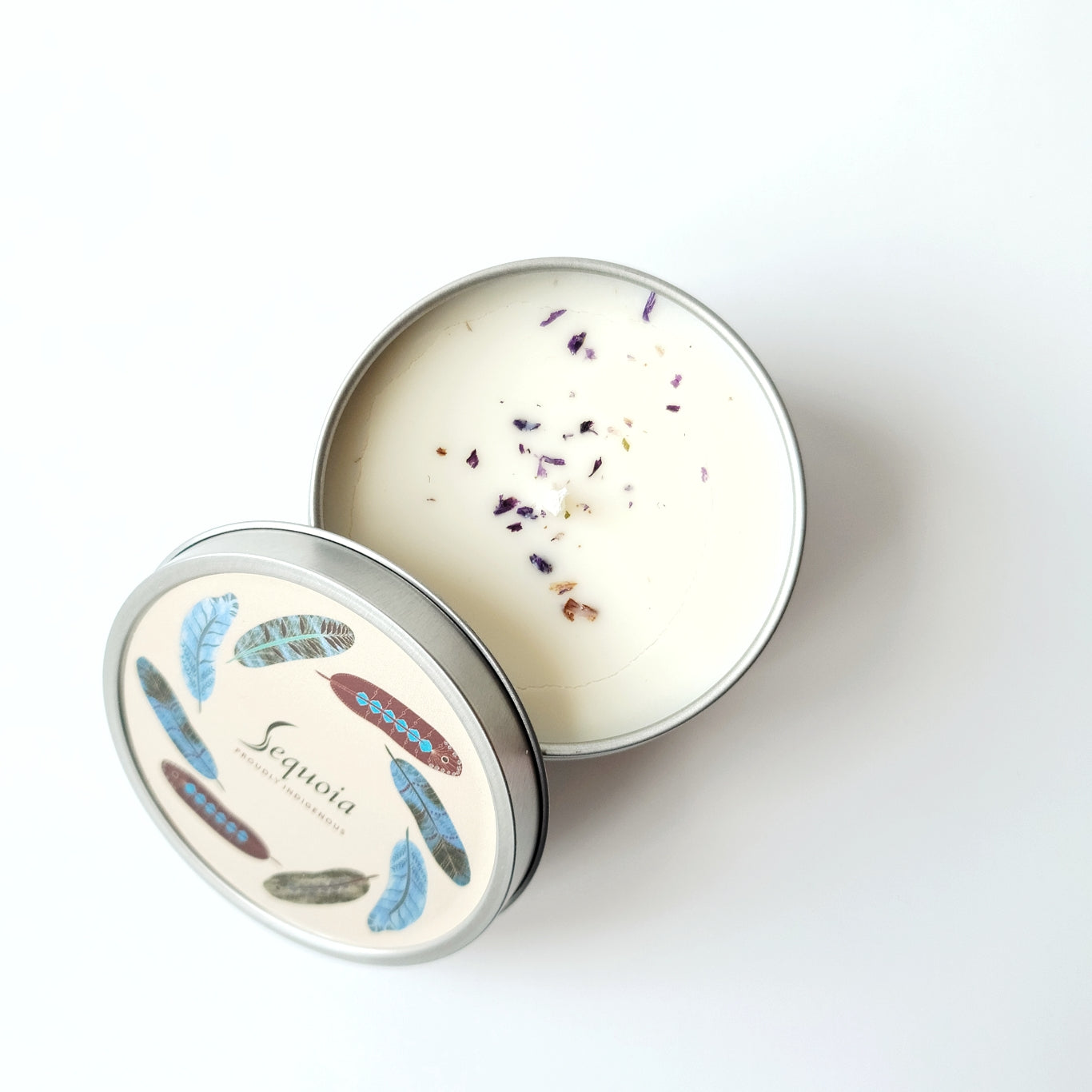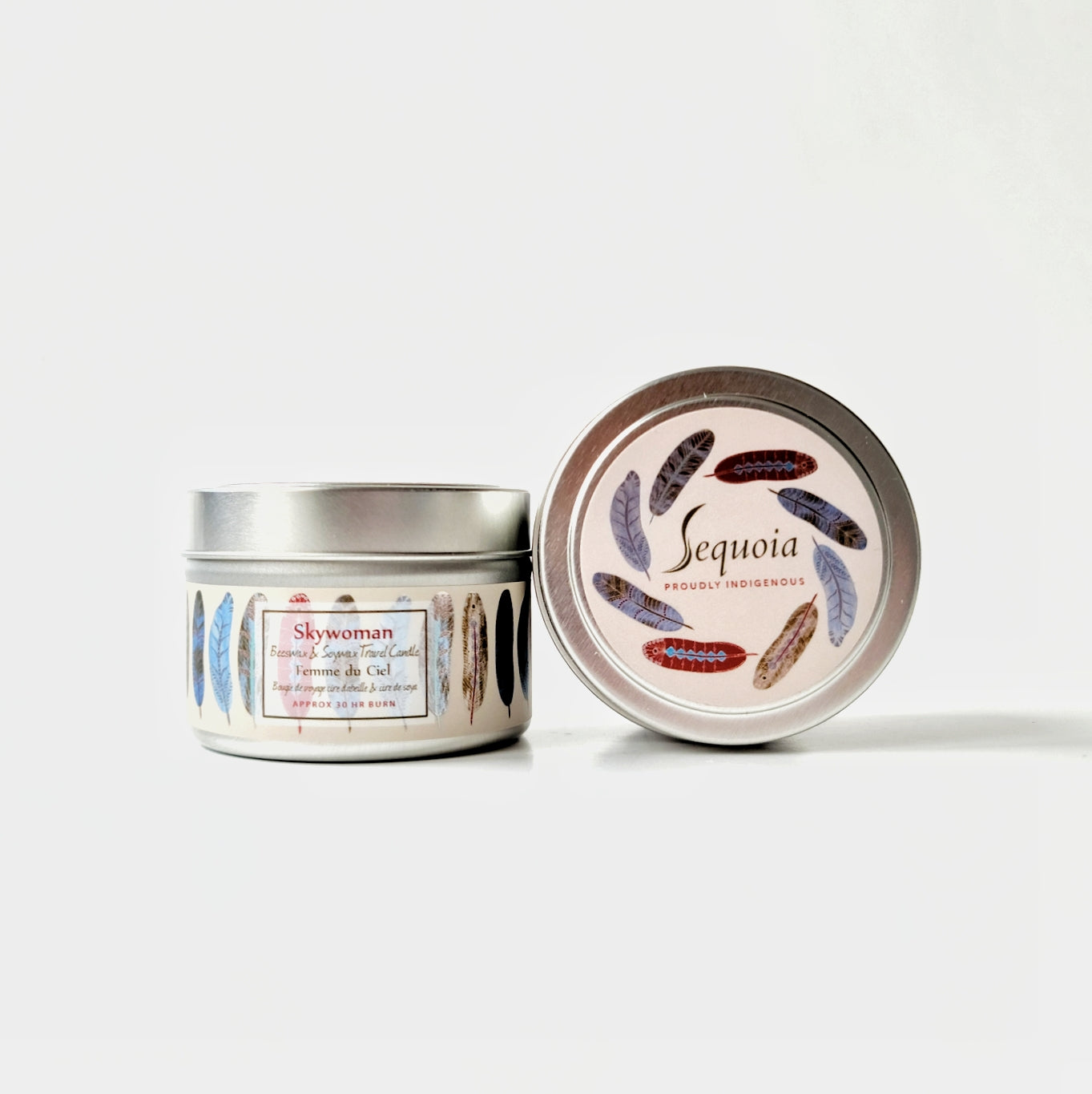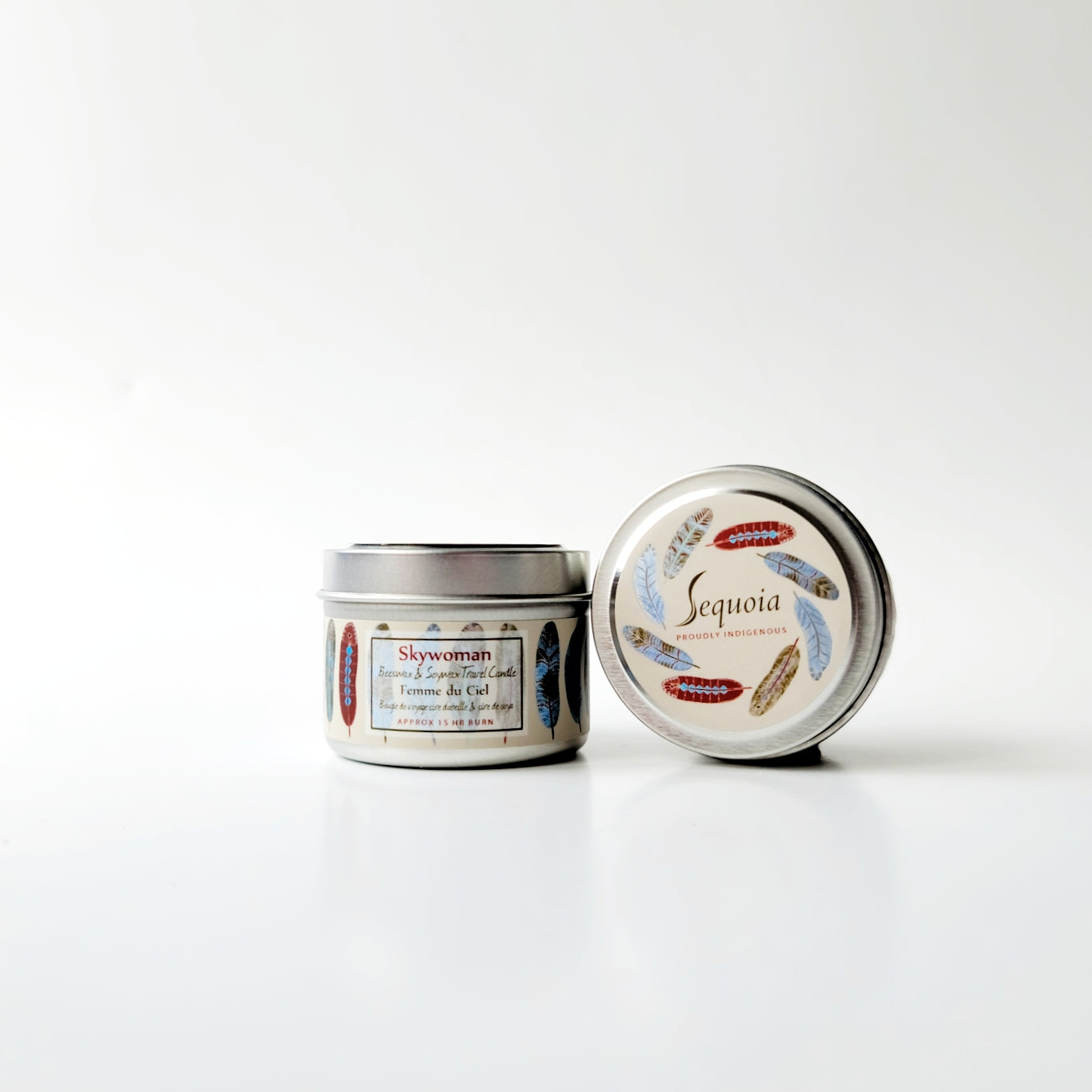 Scent Family: Citrus + Floral
Description: Plumeria flowers mixed with a blend of citruses
Details:  An old Iroquoian legend says: Skywoman came from her home above the heavens on a beam of light. She was placed by geese on the back of the turtle. Using a small bit of mud from the bottom of the endless sea, she sang and danced until a great land had been created that she called Turtle Island.
Our custom blended scent of our Skywoman Candle is mystical and wonderous. The citrus-like background comes through under the sweetness of fruits, elegant softness of beautiful flowers, and finished off with a slight ocean spray touching the air.
• our own blend of natural waxes: soywax and beeswax
• burns cooler, and when finished you can easily rinse out the tin to repurpose
• made with our own proprietary blend of phthalate free fragrance oils and essential oils
• topped with mallow flowers
• contains no artificial colors
Directions: Burn a maximum of 1 to 2 hours at a time, to get the most from your candle. Always burn your candle on a heat proof surface. Keep the wick trimmed to 1/4" to prevent wick from mushrooming which may cause sooting or container becoming too hot. Never burn your candle all the way to the bottom to avoid the container from getting too hot. Your candle should naturally extinguish when there is 1/4" wax left.
Size/Weight: 60hr / 30hr / 15hr
Ingredients: Soywax, Beeswax, Fragrance Oil, Mallow Flowers
Lovely scent 😀
This candle smells so nice and clean, not too sweet . A must try as a gift to a friend or to yourself 😉
An everyday scent
I am in love with the sky woman scent so of course I had to buy the candle. My house always smells amazing now, I just wish the scent was a little stronger
Amazing!
Love this candle! I got the largest version and just wish it came in an even bigger 3 wick version.
Wonderful!
Another favourite scent of mine in candle form. It smells so fresh and fruity!
Amazing scent
Sky Woman is an amazing scent. My house smells fresh. As always, the quality of product is fantastic. I have been happy with everything I've purchase from this company.