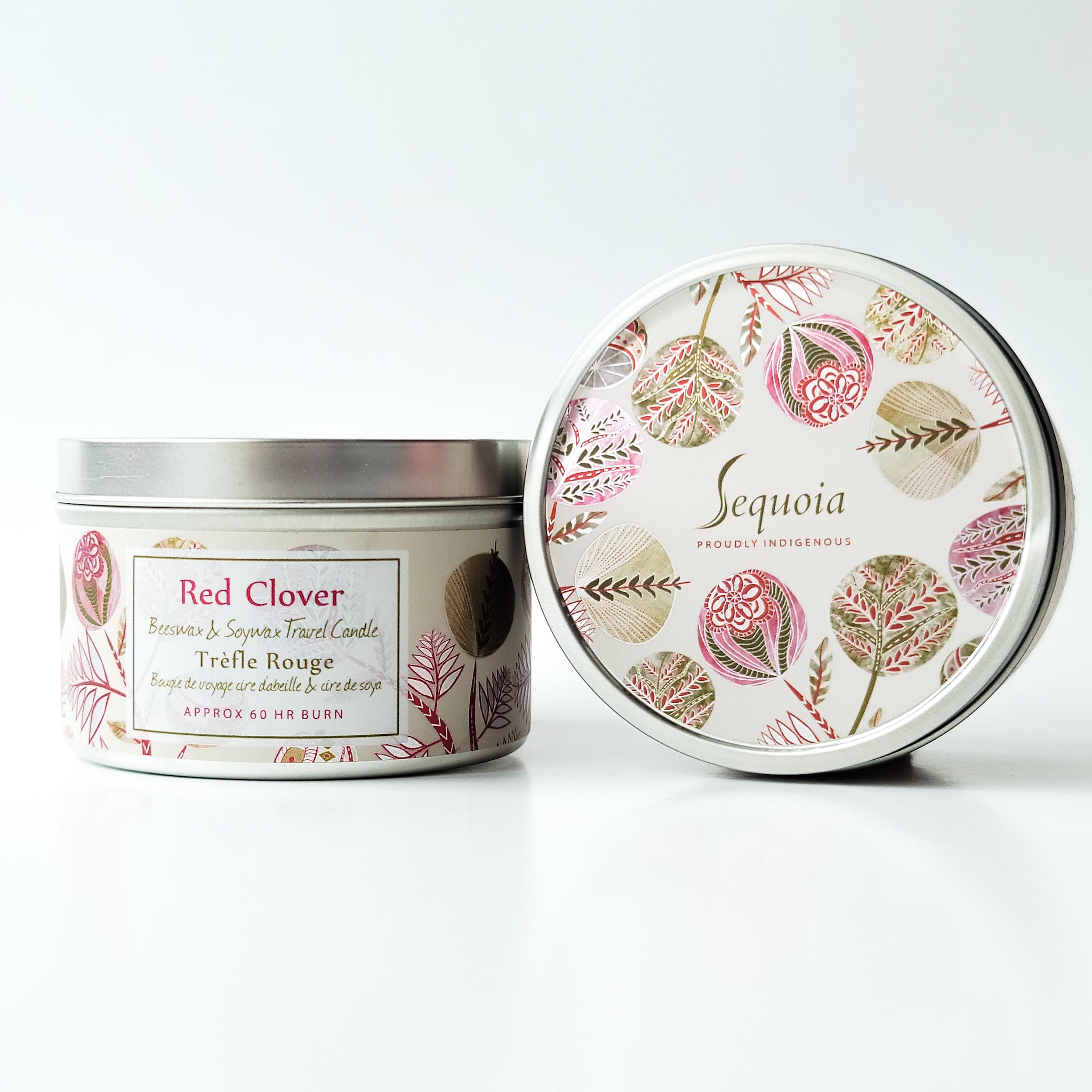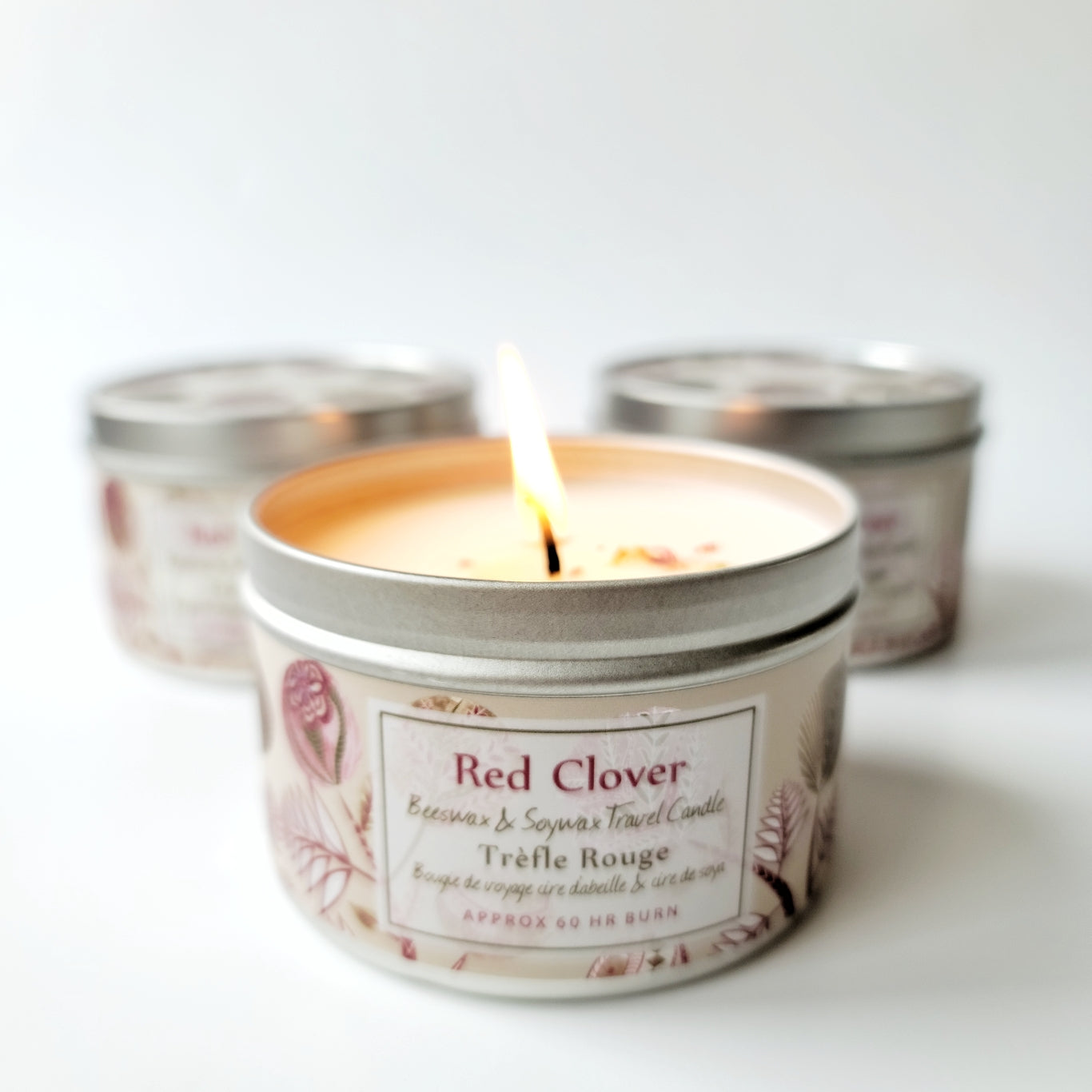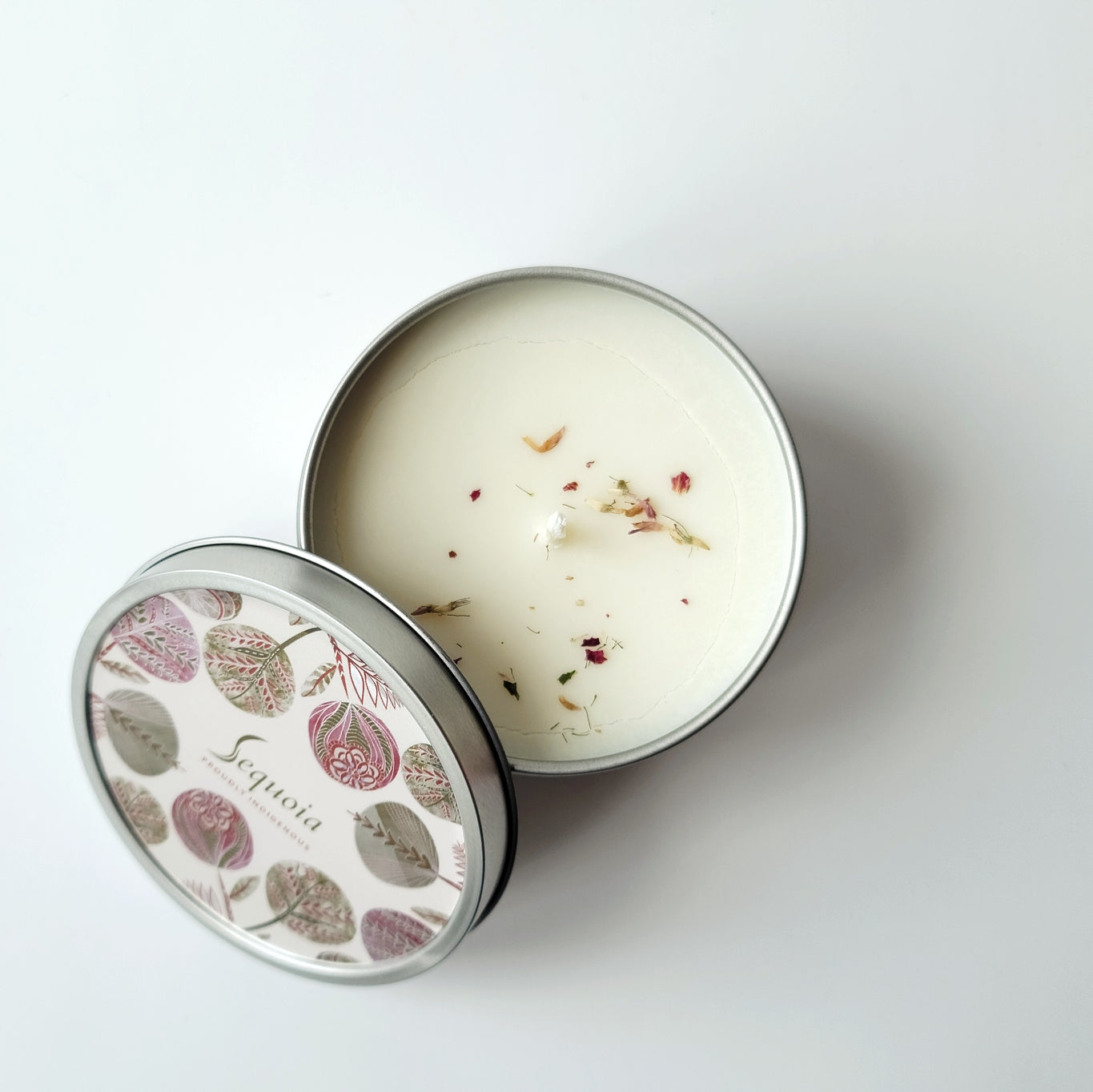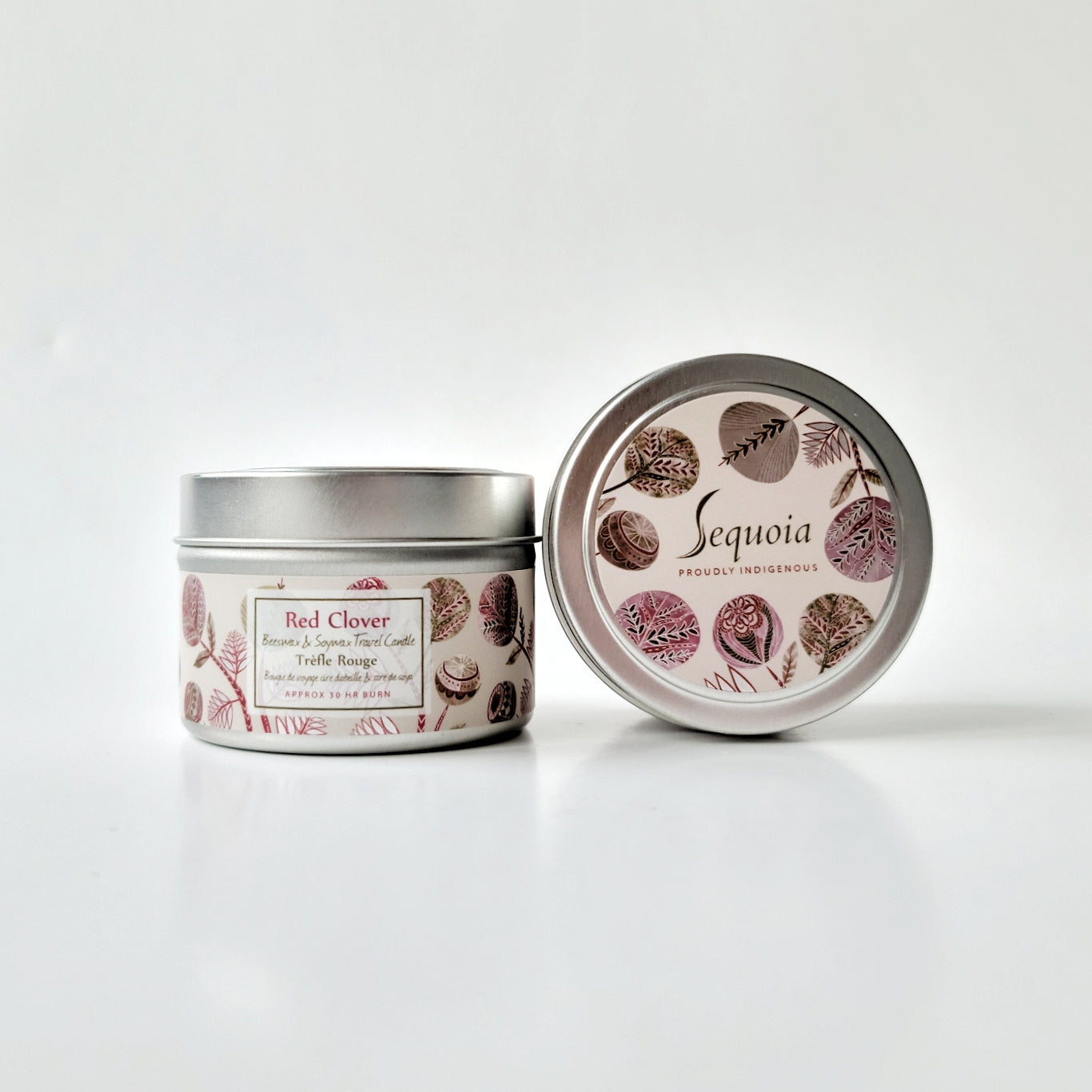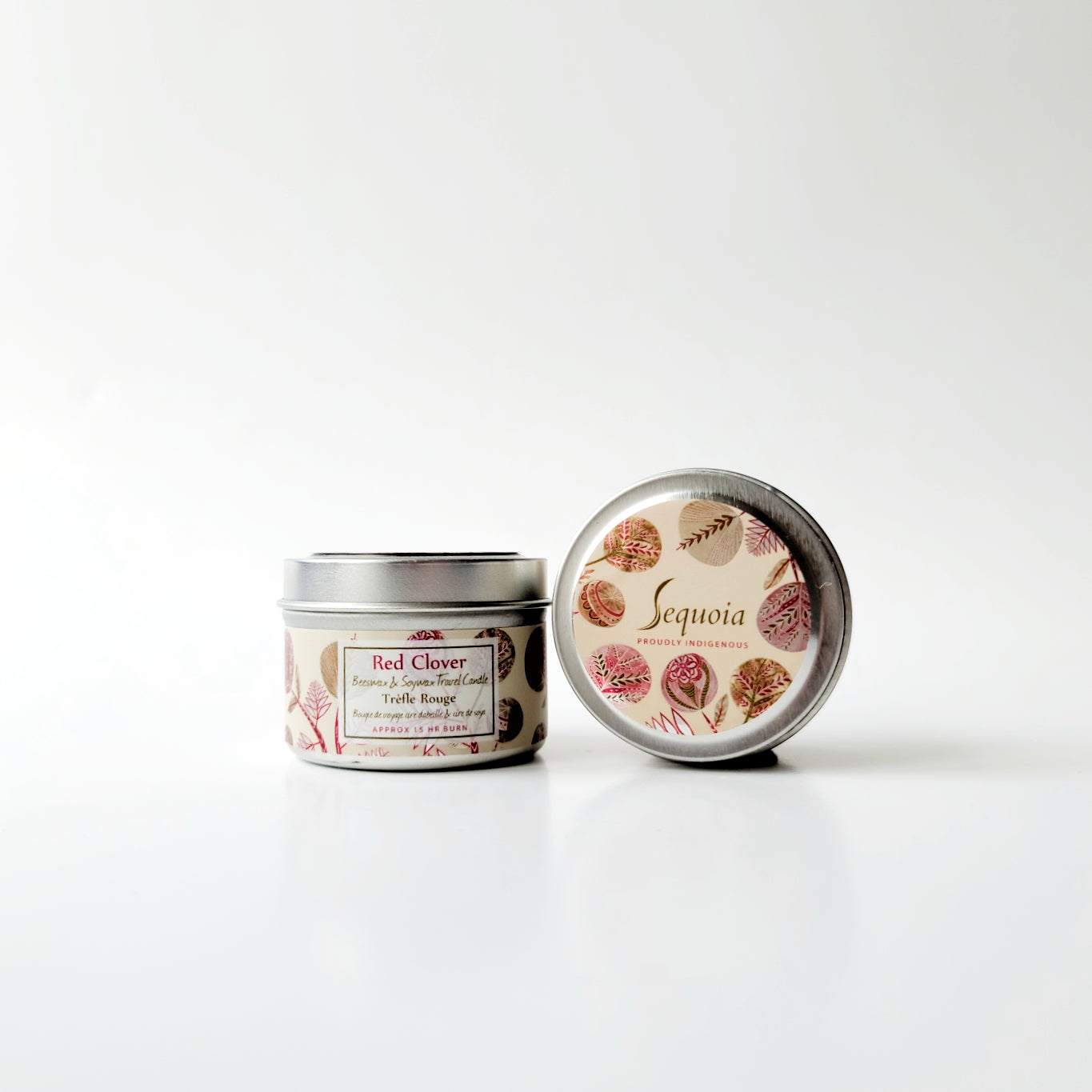 Scent Family: Red Clover
Description: Sweet with a touch of herbal
Details: Remember all those wonderful afternoons sitting with your favorite elder, sipping herbal tea and listening to all those wonderful old stories handed down from generation to generation? The scent of this wonderful candle reminds us of those timeless moments. Our Red Clover soap has a delicious herbal tea scent, delicately sweet with notes of fruit. It's unique and wonderful.

• our own blend of natural waxes: soywax and beeswax
• burns cooler, and when finished you can easily rinse out the tin to repurpose
• made with our own proprietary blend of phthalate free fragrance oils and essential oils
• topped with handpicked red clover and rose
• contains no artificial colors
Directions: Burn a maximum of 1 to 2 hours at a time, to get the most from your candle. Always burn your candle on a heat proof surface. Keep the wick trimmed to 1/4" to prevent wick from mushrooming which may cause sooting or container becoming too hot. Never burn your candle all the way to the bottom to avoid the container from getting too hot. Your candle should naturally extinguish when there is 1/4" wax left.
Size/Weight: 60hr / 30hr / 15hr
Ingredients: Soywax, Beeswax, Fragrance Oil, Red Clover, Rose Petals
Doesn't burn evenly
I love the smell of this candle so much. It's sweet without smelling like a dessert and has a light herbal quality to it. Unfortunately it doesn't burn evenly. At least, the 60hr version doesn't. I've received it multiple times from friends as a gift and every candle has this problem. I have difficulty justifying buying it myself with so much leftover wax. I do usually trim my wicks but I find that I have to keep this one long to maximize the size of the flame and melt more of the wax.
Beautiful product in beautiful packaging
I absolutely love the 4 pc soap gift boxes and can't wait to enjoy the candles. I think I have a favourite new scent in Blackberry Sage.
No expectations and beautiful
I didn't know what to expect for the scent on this candle because I hadn't had anything scented by red clover and it is unique, beautiful and exceptional. I will order this again but in a bigger size.
Fantastic
I love Red Clover as a candle. I like that it's not overpowering like other candles in stores; it's just the perfect amount to freshen up a room with its sweet fragrance.
So pretty!
It absolutely smells lovely and looks so pretty.