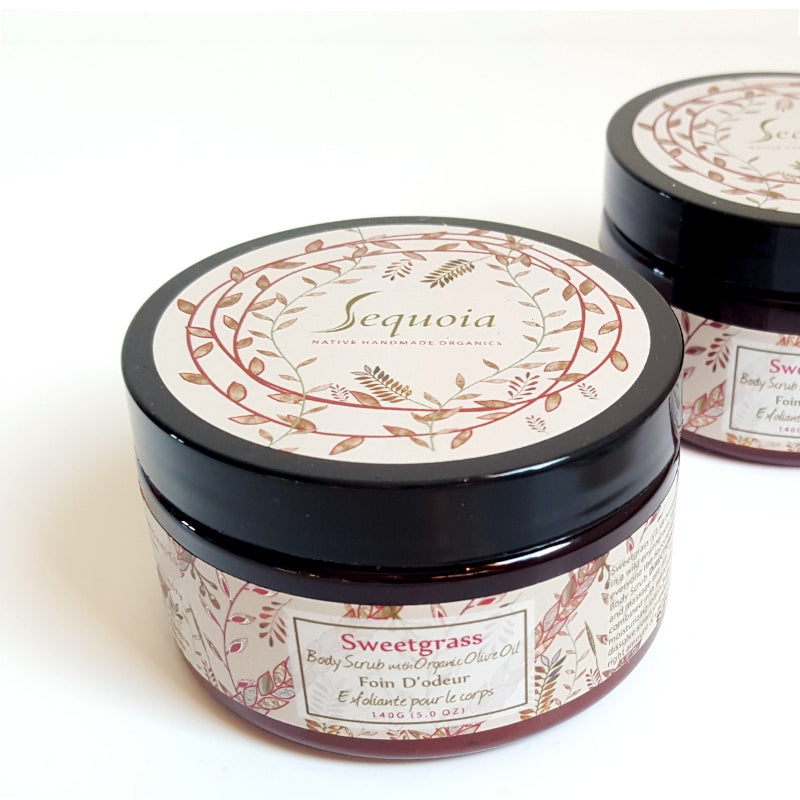 Scent Family:
Sweetgrass
Description: Sweetgrass is our most popular scent in all of our products. It is a beautiful grassy scent with just a hint of sweetness.
Details: Sweetgrass is a lot harder to find now days as it grows and thrives in a wild environment. We've captured this 'wildness' and now give everyone the opportunity to experience it.
Our Sweetgrass Body Scrub would be wonderful addition to your self care routine several times a week. This will exfoliate and moisturize your skin without leaving a greasy residue. This proprietary scent blend is exclusive to Sequoia, you will not find it anywhere else. 
• smooths and refines skin
• removes dead skin cells
• made with organic olive oil and pure cane sugar
• 99% natural ingredients
Directions:  Scoop a small amount of body scrub and massage into skin. This is an emulsified scrub which when combined with water from your bath or shower turns into a moisturizing lotion. Sugar crystals dissolve slowly providing just the right amount of scrubbing effect.
Size/Weight: 20 oz or 5 oz
Ingredients: Sugar, Organic Olive Oil, Canola Oil, Coconut Oil, Emulsifying Wax NF, Fragrance Oil, Propylene Glycol, Diazolidinyl Urea, Iodopropynyl Butylcarbamate
          • Natural Ingredients
          • Safe Synthetics
Loved it!
I use it daily: it's not too abrasive and does wonder for my skin!
Wonderful product with my favorite scent
Sweetgrass is my favorite scent and it's great to have another product I can use that gives me the joy of experiencing it more. The product is fantastic, simple to use, and makes me feel so great.
Wonderful soaps
Bought sweetgrass soaps for Xmas presents for myself, my son and 3 others. My son and I LOVE the soap. He suffers from skin issues and most soaps burn his skin, but not the sweetgrass. Delivery was fast and follow up was great. Will definitely be ordering more product from this company! Thank you so much
Love it!
I started using this scrub 2-3 times a week in the shower. The aroma is so soothing and it makes my skin feel so smooth without irritating my mild eczema! A little goes a long way, so it's a great value. Definitely give it a go!
Wow, what a fantastic exfolient!
These body body scrubs are the best I have ever tried! So smooth, fresh, naturally scented and just perfect overall! ❤️ Highly recommended!
I will continue to support these beautiful Indigenous Women🤩
Thank you!