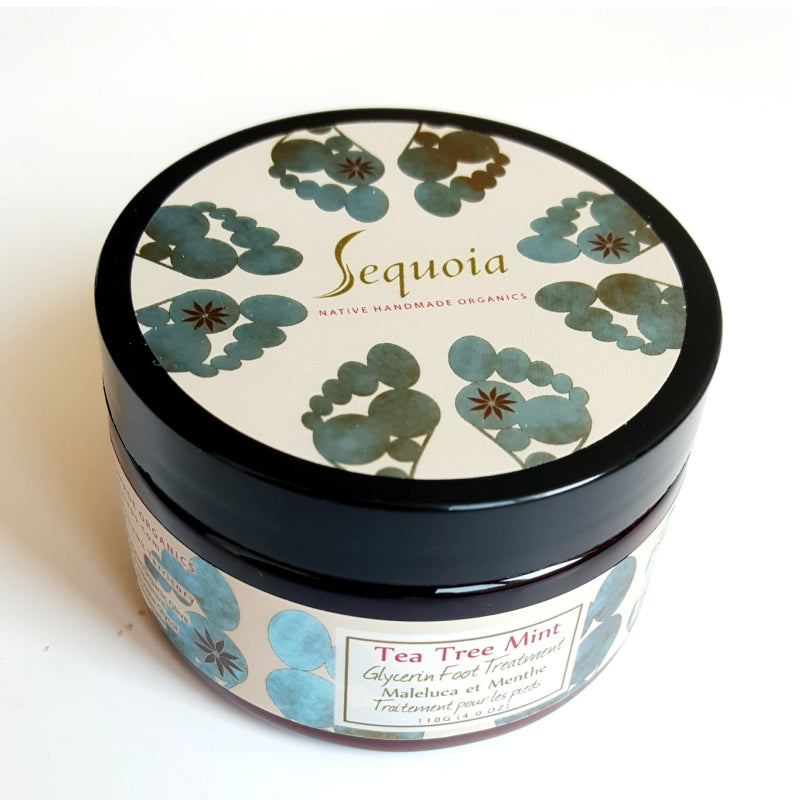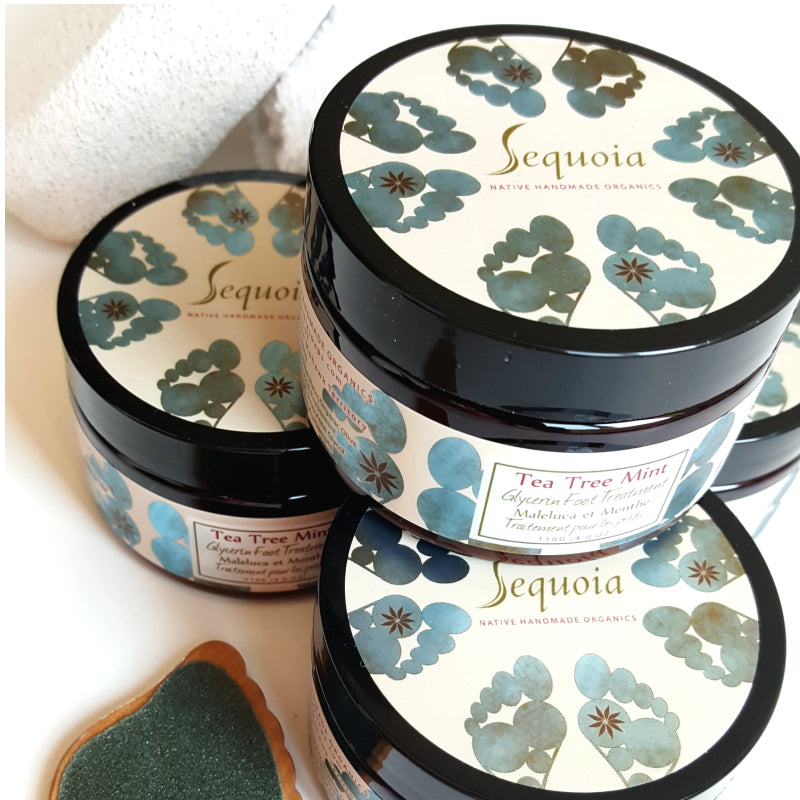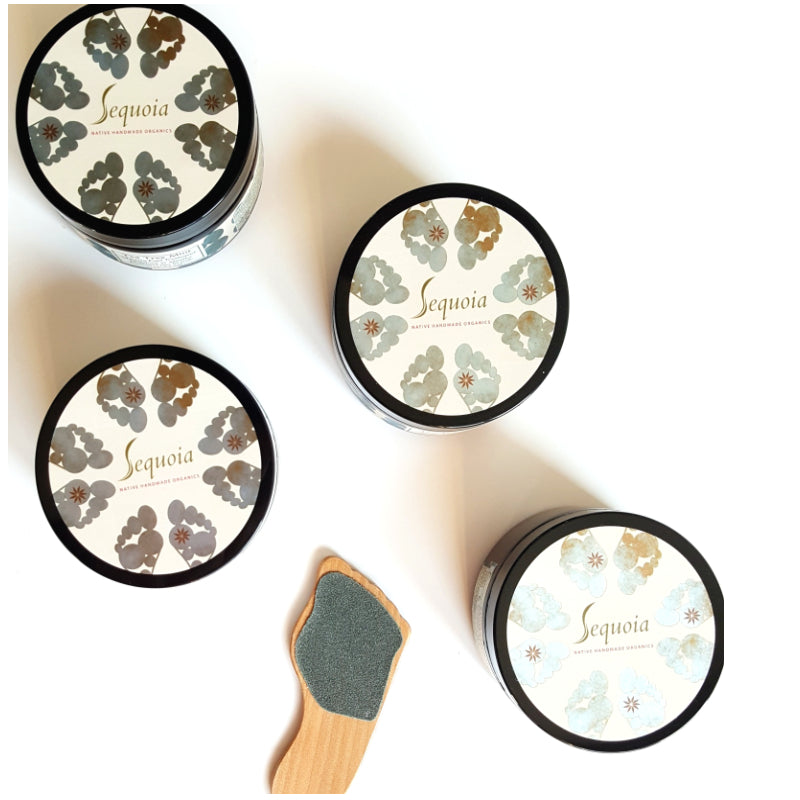 Tea Tree Mint Glycerin Foot Treatment
Scent Family: Tea Tree, Peppermint

Description: Refreshing and cooling
Details: Sequoia foot treatment is one of our best kept secrets. It helps nourish feet and keeps them soft and supple.
Show your love to those stressed, calloused and endlessly devoted peds with this tingly, refreshing antibacterial blend of tea tree and peppermint essential oils in a base of  organic olive oil and glycerin.
Tea Tree Essential Oil is known for its antibacterial and antiviral properties. The Peppermint Essential Oil adds a bit of a cooling effect which relieves hot tired feet,  this is a great way to freshen and revitalize.
• smooths and cools skin
• hydrates thick calluses
• made with organic olive oil
• 99.5% natural ingredients
Directions:  Use once or twice daily to soothe and cool dry, cracked heels and toes. Apply Glycerin Foot Treatment sparingly into the soles of your feet and massage thoroughly. For a more intense treatment, use at night, just before going to bed. The treatment is most effective when covered by a pair of socks. To soften callouses use morning and night minimum 4-5 times per week.
Size/Weight: 4 oz
Ingredients: Glycerin, Distilled Water, Organic Olive Oil,  Emulsifying Wax NF, Stearic Acid, Peppermint Essential Oil, Tea Tree Essential Oil,, Tea Tree Essential Oil, Peppermint Essential Oil , Propylene Glycol, Diazolidinyl Urea, Iodopropynyl Butylcarbamate
          • Natural Ingredients
          • Safe Synthetics
Tea Tree Mint Glycerin Foot Treatment
I love using this amazing foot treatment!! My feet feel amazing after the applying the beautifully-scented treatment, and my husband enjoys the foot treatment too. My husband and I are both diabetic, so foot care is so important.
Wow!
Calling all my ahem, "mature" ladies. If you want your feet to feel like they did when you were in your twenties, the Tea Tree Mint Glycerin Foot Treatment is where it's at. What a fantastic product!
Tea Tree Mint and Glycerin Foot Treatment
Love this product! A true Sequoia classic, I use it every day and it keeps my feet smooth and sandal ready…..
A must have
I love this foot treatment! I never found something that works as well and as quickly as this one. It's definitely a new staple in my summer pampering routine
This is an excellent cream for super dry feet! I've used many many formulations over nearly a decade, and this one is making a consistent and positive improvement to my super extra dry feet. Thank you! Also, I'm back for more 💖