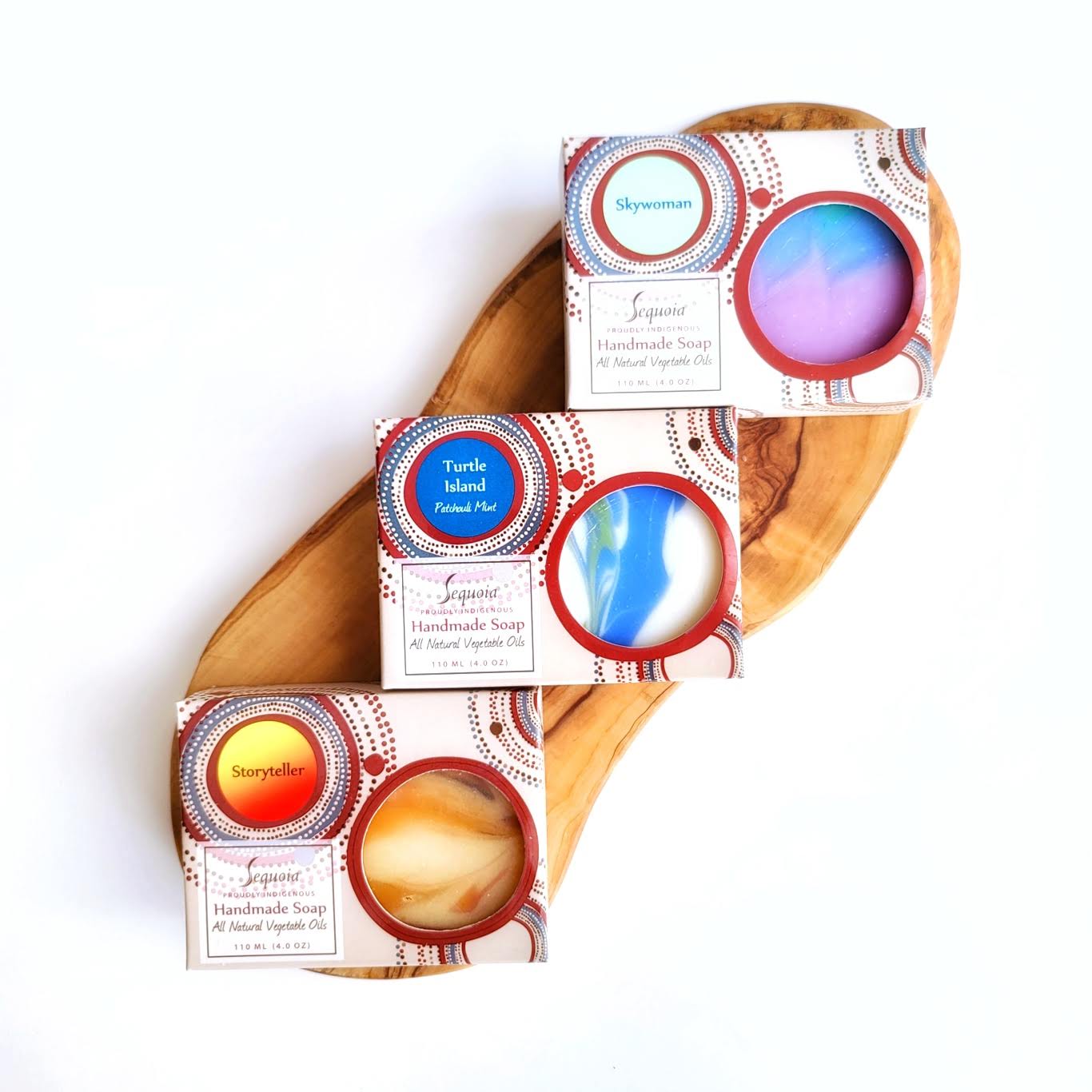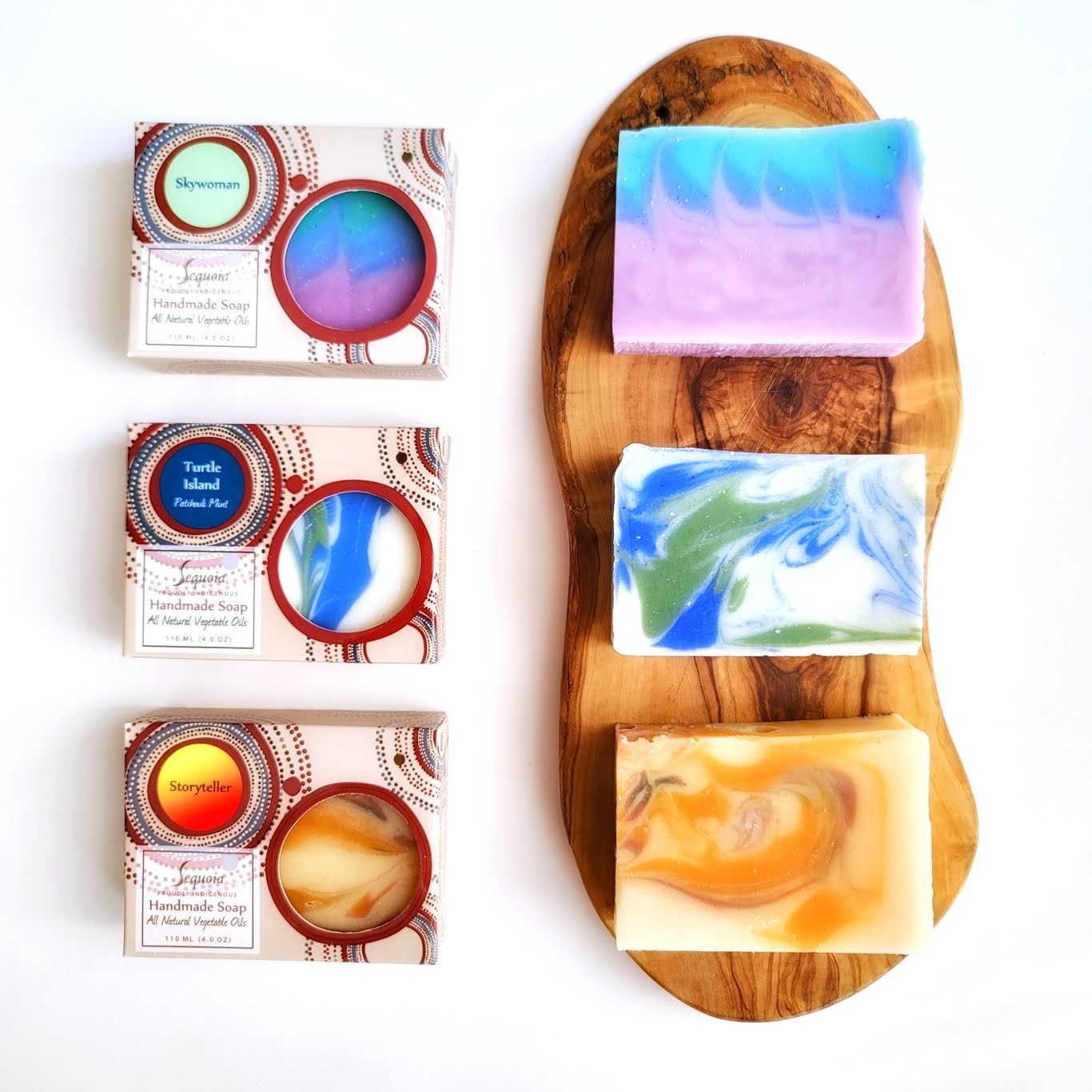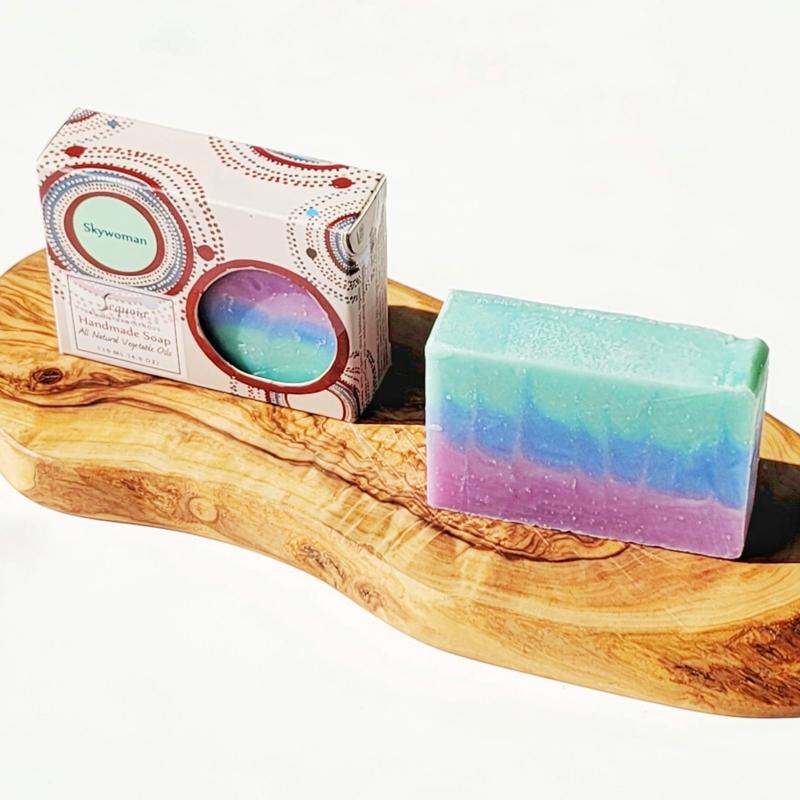 Creation Story Soap Bundle [Skywoman, Turtle Island, Storyteller]
Storytellers would often tell us the Creation Story where Skywoman fell from the sky onto a Great Turtle's back and went on to create Turtle Island. This bundle makes me cozy like I'm hearing it all over again, but now you can imagine it with the artistic side of the soaps and create your own bundle to cozy up with. 
This Bundle contains: 

• 1 - 4 oz Skywoman Soap ($14)
• 1 - 4 oz Turtle Island Soap ($14)
• 1 - 4 oz Storyteller Soap ($14)
Skywoman: Skywoman is from the Iroquoian creation story. She fell from the sky carrying medicine and gifts, and was pregnant. As she fell, the birds collaborated with the sea animals and found a way to help her fall on on a piece of mud on a turtles back. This grew into Turtle Island.

We have the three layers in this soap representing Sky, Land and Sea. Scent is Citrus/Floral

Turtle Island Soap: The Iroquoian creation story teaches us that the continent of North America was formed from the shell of a great turtle. The turtle rose up from the sea to provide Sky Woman a place to land on and walk upon as she descended from Skyworld. Today many tribes have adopted the concept of Turtle Island. Just as we give thanks for the world that we walk upon, we've created a magical soap that captures the essence of that epic story. It even looks like the earth as seen from space! This soap is a wonderful swirl of essential oils of patchouli and spearmint, loved by both men and women. Scent is Patchouli/Spearmint
Storyteller Soap:
Storyteller soap smells like a tea blend you would simmer on your stove top for around the time of year when families get together and sit around the fire. There was a time when that's how stories were passed down from generation to generation. The young ones would sit around listening to the elders telling their stories. As I grew up, we drank tea and could listen to stories for hours

.

Scent is Citrus/Spice 
Total value of products is $42 save $3 when purchased as a bundle 😊
Nice
Looks great and smells nice.