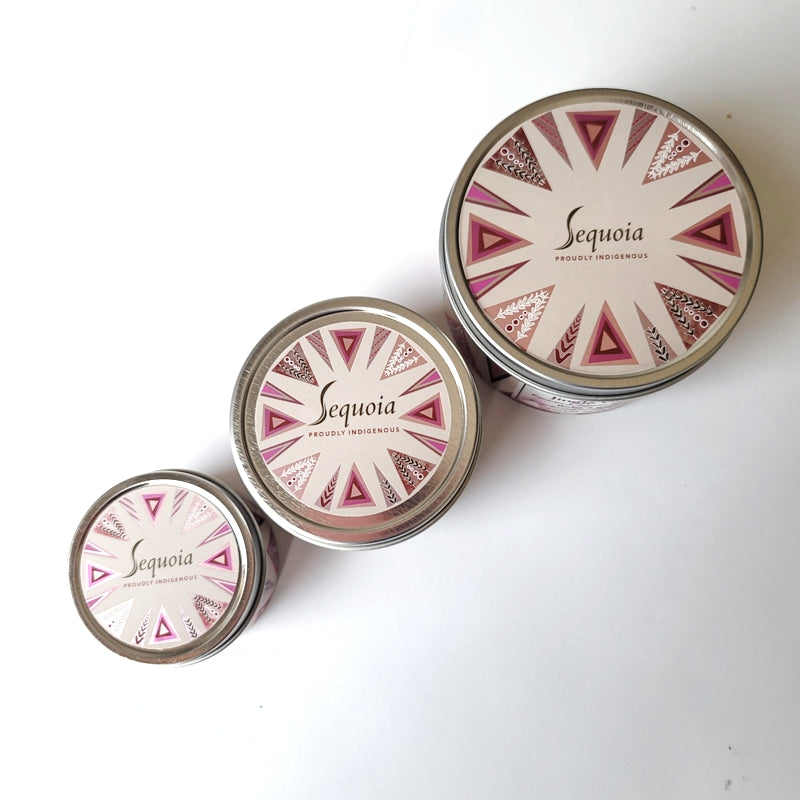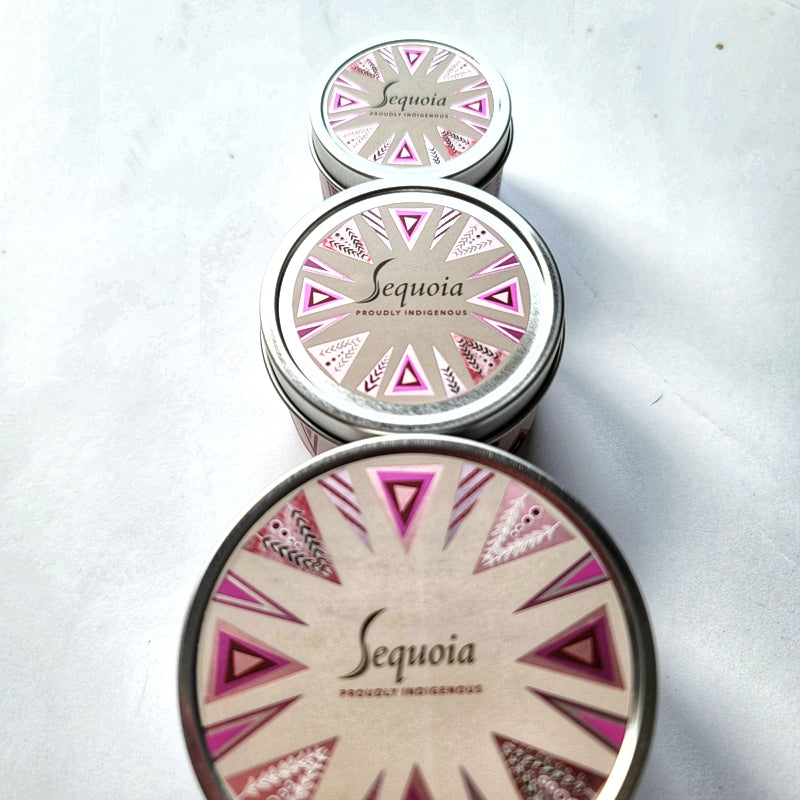 Scent Family: Fruity/Floral

Description: A warm blend of berries + flowers + hint of perfume
Details: Just Launched!! This candle was inspired by the Jingle Dress Dance. Originally it started as a "healing dance" and can be seen at many powwows across North America. To read up a little on the history and see some videos, click here.
This candle is a sweet and soft mix of raspberry, red currant, tulip, freesia, heliotrope, rose, cashmere musk, vanilla, and amber. This is a complex mix with just a hint of perfume undertones. Very different than all of our other candles. 
• our own blend of natural waxes: soywax and beeswax
• burns cooler, and when finished you can easily rinse out the tin to repurpose
• made with our own proprietary blend of phthalate free fragrance oils and essential oils
• topped with pink rose petals
• contains no artificial colors
Directions: Burn a maximum of 1 to 2 hours at a time, to get the most from your candle. Always burn your candle on a heat proof surface. Keep the wick trimmed to 1/4" to prevent wick from mushrooming which may cause sooting or container becoming too hot. Never burn your candle all the way to the bottom to avoid the container from getting too hot. Your candle should naturally extinguish when there is 1/4" wax left.
Size/Weight: 60hr / 30hr / 15hr
Ingredients: Soywax, Beeswax, Fragrance Oil, Rose Petals
just lovely
Can't wait to start burning this one, it smells so nice!
Lovely scent
Bought as a gift and the recipient is delighted with the scent. Arrived quickly.
Wonderful Holiday Candle
One of my favorite holiday candles for sure. Smells a bit floral with hints of raspberry.
Love, love, love!
Such a beautiful scent and as always, amazing quality. All Sequoia candles burn beautifully and for the stated amount of time. Also, proceeds from the Jingle Dress Collection go towards MMIW. ♡ Thank you all at Sequoia, you are all amazing!