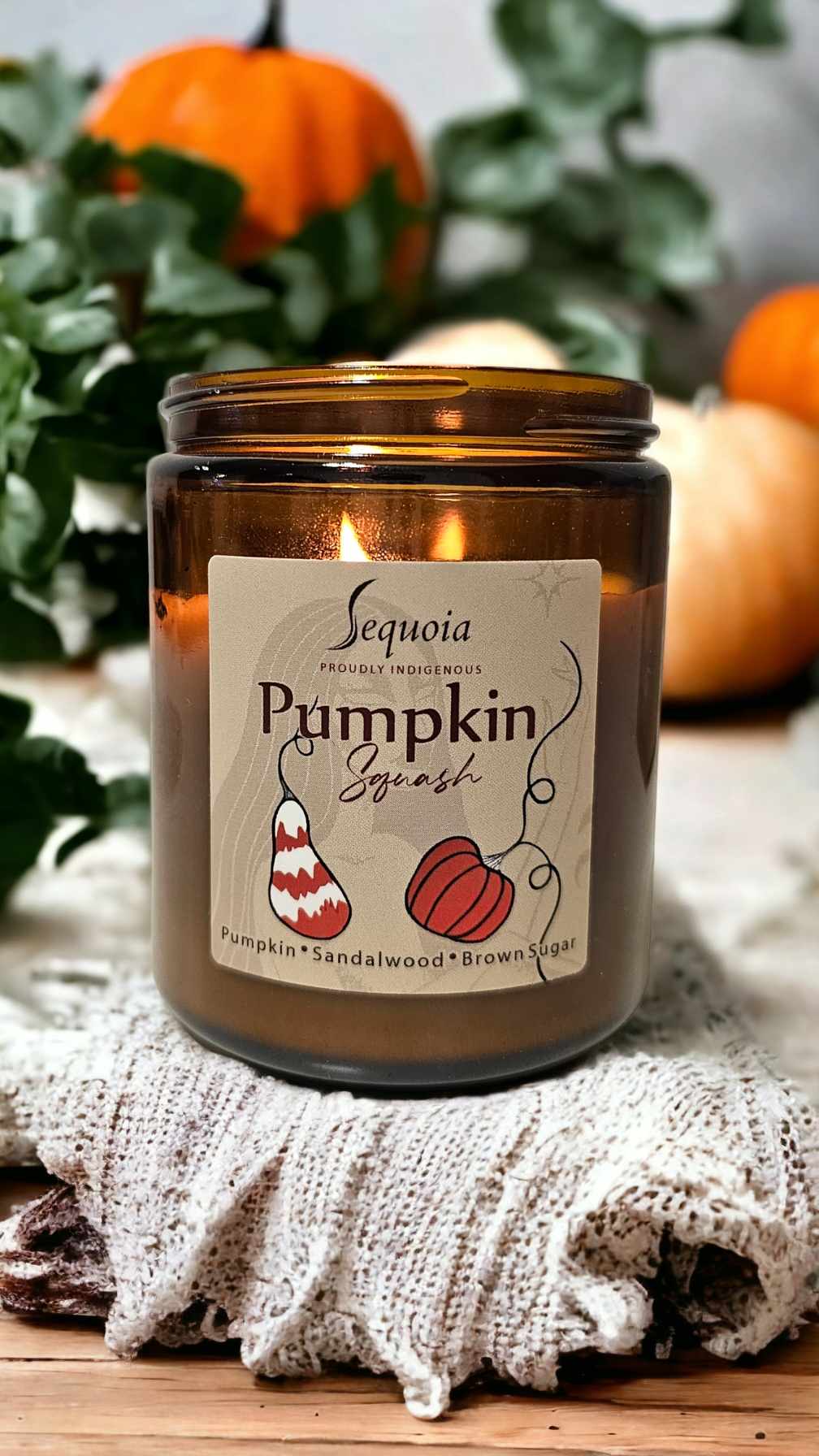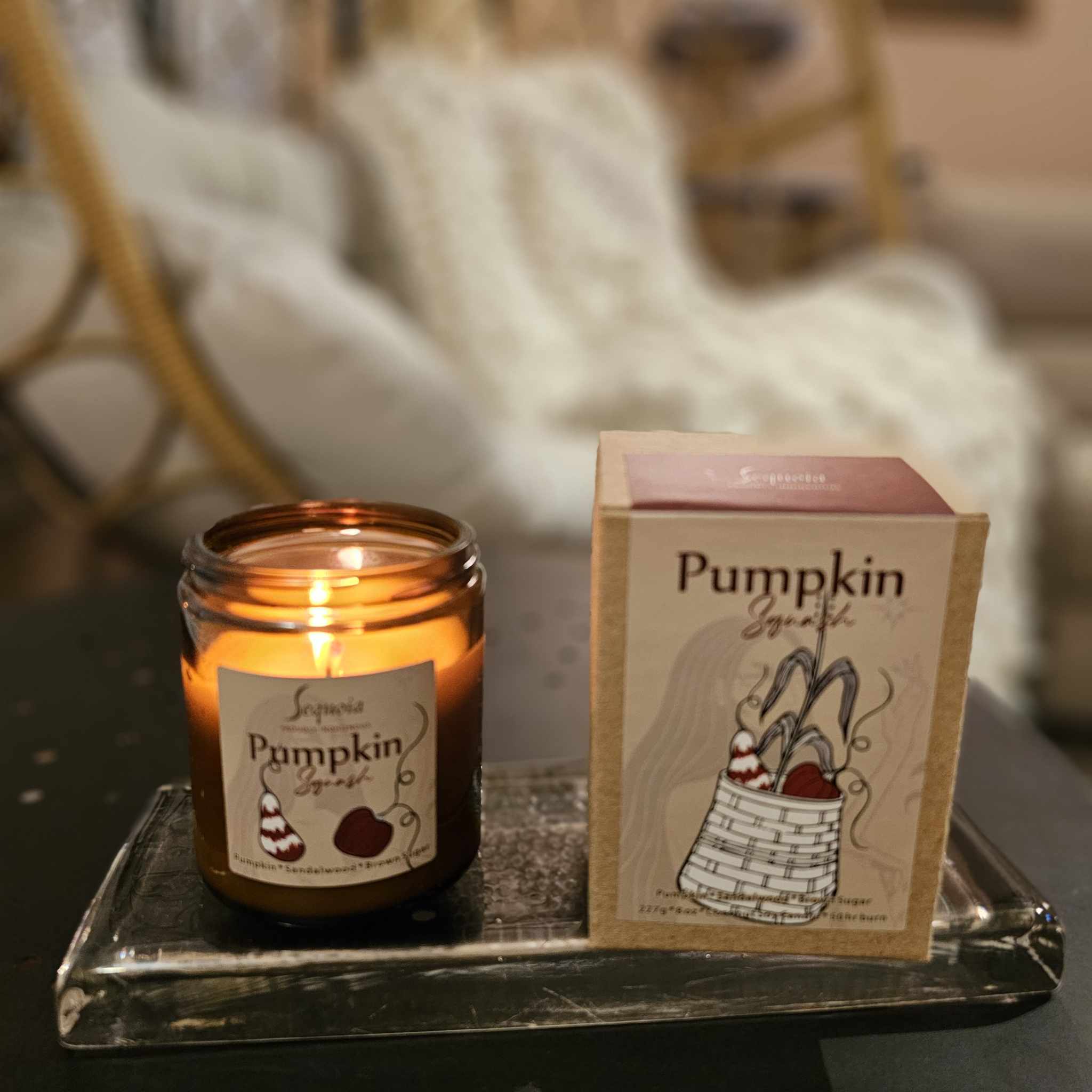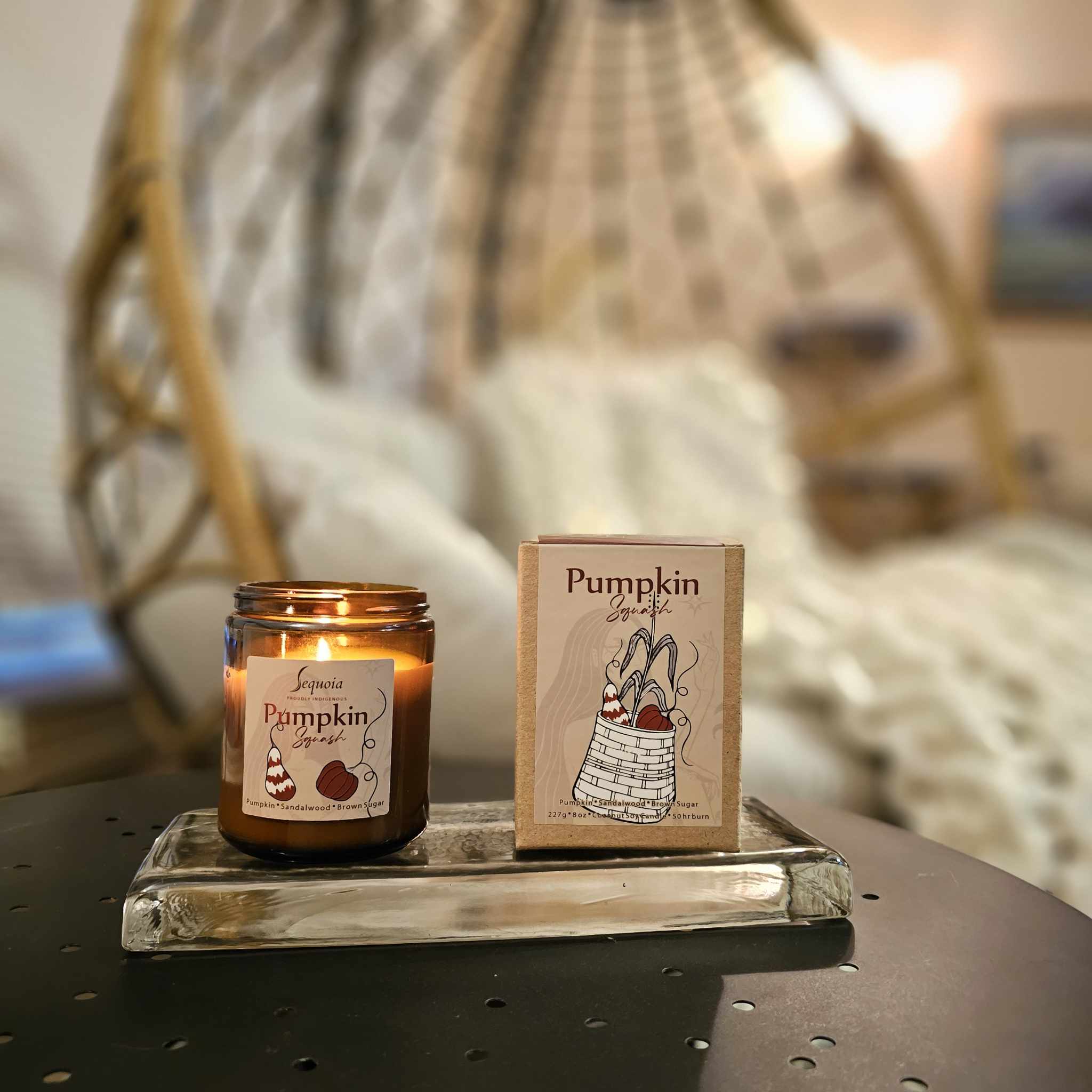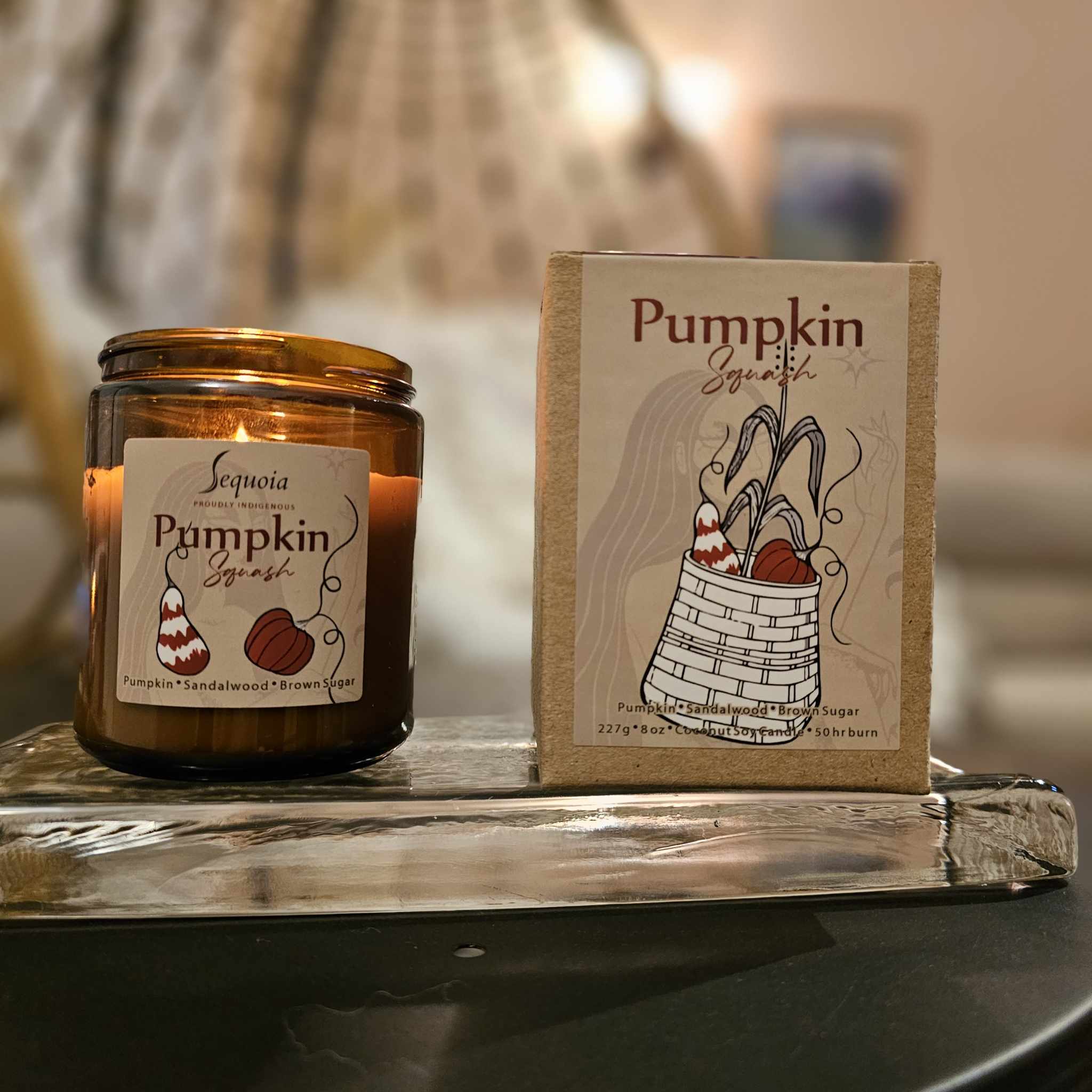 Pumpkin Squash Candle ***LIMITED EDITION***
A collab with Indigenous artist Leilani Shaw. Royalties are paid to the artist on every sale.
Scent Family: Gourmand

Description: Pumpkin, Sandalwood, Brown Sugar
Details: Classic pumpkin and fresh fruit with just the right amount of spice and sweetness. Corn, Beans and squash were the main crops our women harvested and the queen of the squash family, pumpkin is our feature scent in Pumpkin Squash. It's got just the right touch of brown sugar, cinnamon, honey and orange peel and is toned down with hints of sandalwood, tobacco, patchouli and vanilla.
Our Pumpkin Squash candle is the second of our limited edition candles poured in our new Amber glass vessels. This will bring a beautiful ambience to any room. If you are a fan of the classic fall scents you will love this candle. 
• vegan
• made with coconut soy wax blend
• high quality scents

Directions: Burn a maximum of 4 hours at a time, to get the most from your candle. Always burn your candle on a heat proof surface. Keep the wick trimmed to 1/4" to prevent wick from mushrooming which may cause sooting or container becoming too hot. Never burn your candle all the way to the bottom, this will avoid the container from getting too hot. We recommending leaving 1/2" wax and restocking another Sequoia candle!

Size/Weight: 50 hour
Ingredients: Coconut-Soy Wax Blend, Fragrance/Essential Oils
• Natural Ingredients
• Safe Synthetics
A perfect fall scent featuring apple, cinnamon, a hint of clove.

Our Harvest Moon soap features "Moon Water" and activated charcoal as special ingredients. The water was left out for the light of the full moon to recharge it's moon energy into it. If you are a fan of the classic fall scents you will love this soap in your bath/shower.

The harvest moon could look bigger to the human eye or more orange, but it's "an average-sized full moon.

The harvest moon has also been called a fruit moon or barley moon as harvests happen near the end of the summer. It can also be called the corn moon.

The Algonquin tribes in what is now the northeastern U.S. called this the Corn Moon, as this was the time for gathering their main staple crops of corn, pumpkins, squash, beans, and wild rice.

Limited Edition and a Staff Favorite

Scent Family: Spicy/Fruity

Notes: Apple Cider

Notable Benefits
• hydrates dry skin
• made with organic shea butter
• made with organic castor oil
• 98% natural ingredients
• contains moon water
• contains activated charcoal

Directions: Use daily in bath or shower. For a longer lasting bar make sure you do not leave in a puddle of water where the soap may become soggy. Or even better, alternate between 2 bars so that there is an extra day of drying time between uses.

Size/Weight: 4 oz / 1 oz
Canola Oil, (Moon) Water, Coconut Oil, Olive Oil, Sodium Hydroxide, Organic Shea Butter, Organic Castor Oil, Stearic Acid, Fragrance Oil, Activated Charcoal, Yellow #5