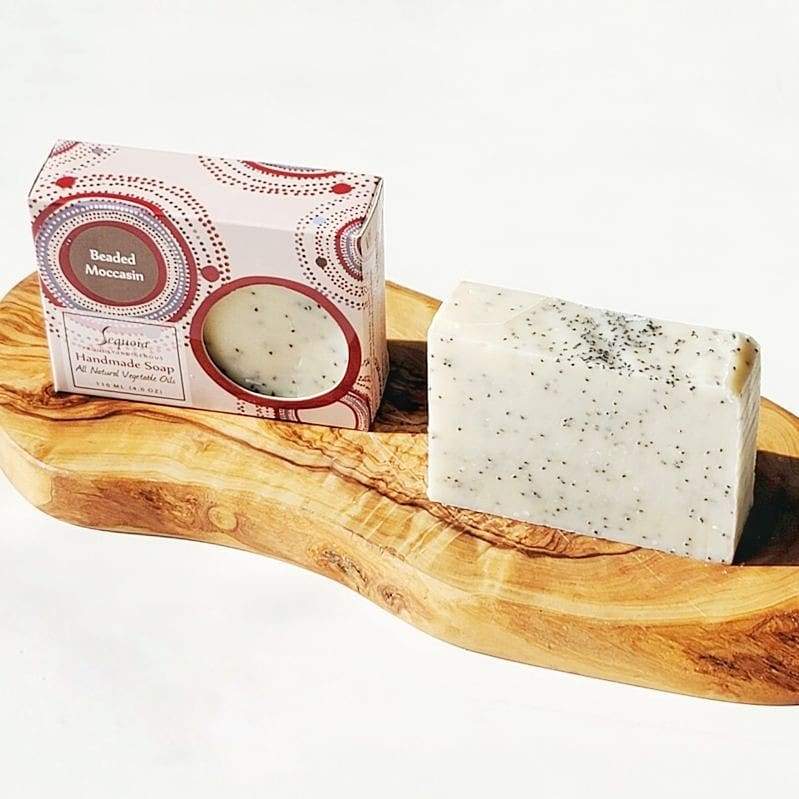 Pow Wow Bling Soap Bundle [Turquoise, Jingle Dress, Beaded Moccasin]
I have been to so many powwows and I cannot count how many times I didn't come home with something Turquoise, something Beaded and something that reminded me of a Jingle Dress and that is my inspiration for this Bundle. Bring home your powwow bling with this bundle.
This Bundle contains: 

• 1 - 4 oz Turquoise Soap ($14)
• 1 - 4 oz  Jingle Dress Soap ($14)
• 1 - 4 oz Beaded Moccasin Soap ($14)
Turquoise Soap: A fresh clean scent with hints of apple, sage, and just a hint of pineapple. Our soap design features the Turquoise color with veins of gold you so often see in Indigenous Turquoise Jewelry. If you are a fan of Turquoise like I am, you will love to have this soap in your shower. Scent is Clean with hints of Fruit

Jingle Dress Soap: This soap was inspired by the Jingle Dress Dance. Originally it started as a "healing dance" and can be seen at many powwows across North America. This soap is a sweet and soft mix of raspberry, red currant, tulip, freesia, heliotrope, rose, cashmere musk, vanilla, and amber. This is a complex mix with just a hint of perfume undertones. Very different than any other soap that we've made before. Scent is Fruity/Floral
Beaded Moccasin Soap:
For Almond lovers, this is one that you have to try! Our Almond smells good enough to eat, you will have to restrain yourself from doing so! Poppy seeds are thrown into the mix for a gentle exfoliation to help eliminate dead cells, while leaving the skin feeling soft and smooth. We recommend this soap for anyone who gets those pesky bumps and rough skin on the backs of their arms.
.
Scent is Almond Scent 
Total value of products is $42 save $3 when purchased as a bundle 😊
Great
I haven't tried it yet but they look and smell very nice.